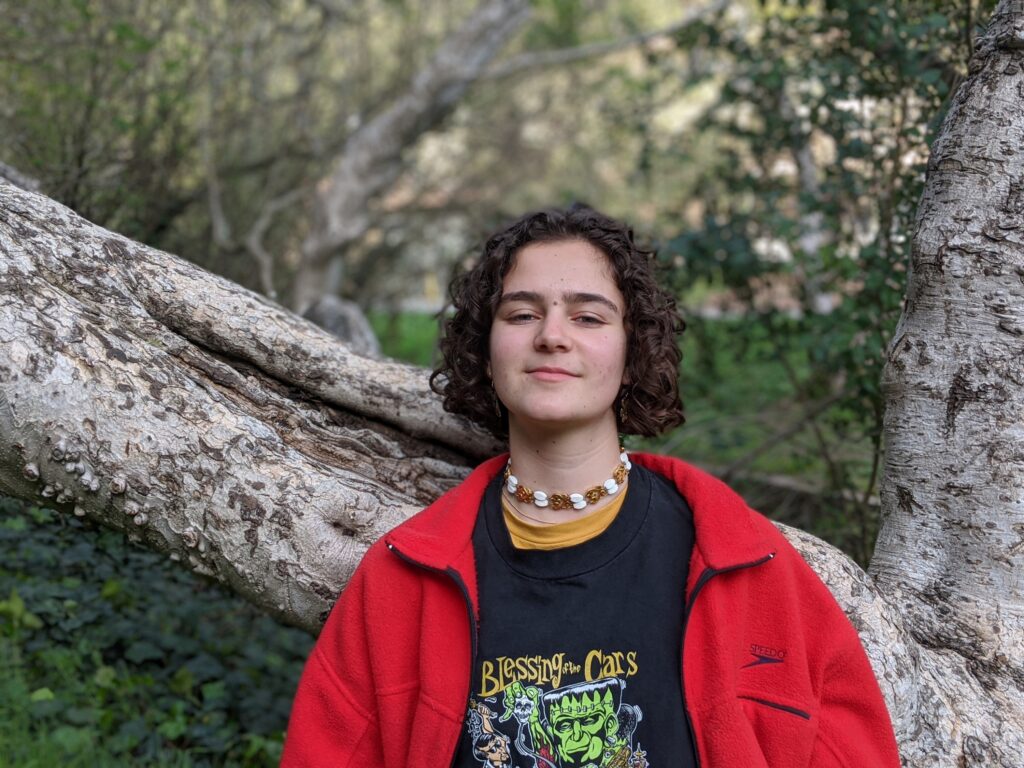 The Chronicle's guide to notable arts and entertainment happenings in the Bay Area. 
Holidays 2020: Bay Area Christmas performances, light displays and more ways to celebrate
Teen playwrights take firm stand with '#Enough: Plays to End Gun Violence'
Some of the most eloquent and powerful voices to emerge in the fight against gun violence come from younger generations — the students who've grown up not knowing what it's like to go to class without school shootings as an ever-present threat or headline.
Now some of the nation's premier theater companies, including Berkeley Rep, are giving seven of those voices a louder microphone.
"#Enough: Plays to End Gun Violence" is a nationwide short play competition created in 2019 for middle and high school students. Among this year's winners is Oakland teen Sarah Schecter, who's also a member of Berkeley Rep's Teen Core Council. Her 10-minute play, "Hullabaloo," draws on the spectacle of circus and Wild West shows to explore how gun culture is tied up in America's idea of itself.
Berkeley Rep produces her piece, which can be viewed for free via Broadway on Demand starting Dec. 14. Producers of other youths' plays include Alliance Theatre, Arizona Theatre Company, Goodman Theatre, Orlando Repertory Theatre and South Coast Repertory.
"#Enough: Plays to End Gun Violence": Available on demand Dec. 14-20. Free. enoughplays.com
— Lily Janiak
Chanticleer adds lighting and visuals to Christmas program
Virtual concertgoing during the pandemic age doesn't have many advantages when compared to the real thing. But one silver lining, perhaps, is the ability to use cinematography to infuse musical events with a range of visual underscoring.
"A Chanticleer Christmas," the annual seasonal tradition presented by the redoubtable San Francisco men's chorus, has always played a bit with lighting — candlelit entrances, muted shades and so forth. Now those accents will be made even more pronounced, in a filmed version directed by Frazer Bradshaw.
The repertoire is comfortably familiar, ranging from music by the Renaissance masters Antoine Brumel and Josquin des Prez through a wealth of holiday favorites and spirituals.
A Virtual Chanticleer Christmas: Available to stream starting noon, Tuesday, Dec. 15. Through Jan. 1. $25-$42. www.chanticleer.org
— Joshua Kosman
Broke-Ass Stuart plans to get roasted for his 40th birthday
Broke-Ass Stuart, the eternally "young, broke and beautiful" voice of a certain set of San Franciscans due to his website brokeassstuart.com, is turning 40.
To commiserate, er, celebrate, the man born Stuart Schuffman is hosting his own roast, and turning the occasion into a fundraiser to keep his website going amid pandemic-related difficulties. Schuffman, who is also a columnist for the San Francisco Examiner and one-time mayoral candidate, has been an irrepressible San Francisco personality for almost 20 years.
Hosted by comedian Luna Malbroux, roasters include Peaches Christ, Supervisor Matt Haney, Sister Roma and Chronicle columnist Heather Knight.  The roast will be free to view online with several click-to-donate opportunities during the event. Partial proceeds will also go to the Coalition on Homelessness.
The event is being sponsored by Chameleon Cold Brew, Eaze and Secession Art & Design, and produced by Stokes Live Entertainment. Here's to you, Stuart: A man who may be Broke-Ass but never deficient in friends.
"Broke-Ass Stuart's 40th Birthday Roast": 7:30 p.m. Wednesday, December 16. Free, donations encouraged. https://bit.ly/BASRoast
— Tony Bravo
'Painting for Justice from Prison' spotlights artists who have served time in San Quentin
"Painting for Justice From Prison" aims to bring awareness to an oft-unseen artistic canon. The online auction (and its virtual exhibition at the Museum of the African Diaspora) highlights the work of 12 currently and formerly incarcerated artists from San Quentin State Prison. The ideas contained in each piece run the gamut, from Gary Harrell's celebration of music in a vivid lino-print portrait called "Gary Harrell Plays Blues" to Stan Bey's "Remembrance," an acrylic memorial of ancient African cultures.
The exhibit is hosted by Prison Renaissance, an organization that advocates for the abolition of prisons and supports incarcerated people. Its co-founder and the exhibit curator, Rashaan "New York" Thomas, is a creator and host of the Pulitzer Prize-nominated podcast "Ear Hustle."
The works include collage, linocut prints, ink drawings on paper and acrylic paintings. Eighty-five percent of sales will support the artists, and the other 15% will support the organization.
"Painting for Justice from Prison" online auction: Runs until Tuesday, Dec. 15. Winning bids announced on Thursday, Dec. 17. bit.ly/prison-justice-auction; "Meet us Quickly" virtual exhibit: Free. Runs through Jan. 31. www.moadsf.org
— Rachel Zarrow
Daniel Glover transports orchestral music to the piano
Back in the day — before streaming, before CDs, before vinyl — music lovers often had to rely on the piano to experience the latest orchestral or operatic hits. If you were lucky, you might hear a virtuoso like Franz Liszt string together snippets of popular arias in a public performance. Otherwise, one or two capable amateurs might plow through an arrangement around the parlor piano.
Daniel Glover will invoke that tradition in a canny live-streamed recital dubbed "A Covid Compromise." In honor of Beethoven's 250th anniversary year, he'll perform music adapted to the piano from larger works, including Liszt's "Fantasy on Themes from Beethoven's 'Ruins of Athens'" and John Corigliano's "Fantasy on an Ostinato," which riffs on the slow movement of Beethoven's Seventh Symphony.
Daniel Glover: 7 p.m. Friday, Dec. 18. $20 donation requested. www.oldfirstconcerts.org
— Joshua Kosman
Rival aging movie stars get drag spoof in 'Whatever Happened to Bianca Del Rio?'
Here are a few reasons why "Whatever Happened to Baby Jane?" is ripe for drag parody: The way co-stars Bette Davis and Joan Crawford tore into each other both on screen and off. The way Jane Hudson, Davis' character, was such an inconsolable grouch, such an irredeemable bully. She was a walking pity party, a lower lip so swollen it could punch you in the face. A third reason: Crawford's eyebrows.
Drag performers Peaches Christ and Bianca Del Rio (winner of the sixth season of "RuPaul's Drag Race") recorded a spoof — "Whatever Happened to Bianca Del Rio?" — for archival purposes in 2015. Now the pair are screening it digitally, hoping to beam a semblance of the vibe of Christ's Midnight Mass movie series at the Castro Theatre into your living room.
The makeup alone is deadly. Eyebrows scrape hairlines. Eye sockets are as hollowed out as craters.
"Whatever Happened to Bianca Del Rio?": 6 p.m. Saturday, Dec. 19; 1 p.m. Sunday, Dec. 20. Pay-what-you-can. peacheschrist.live
— Lily Janiak
For more Datebook Picks and to browse our events calendar, click here.