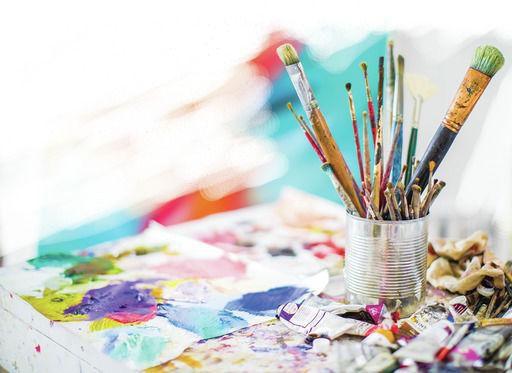 Artwork Notes | Group | triplicate.com
Artist Jonathan Gaetke – Forthcoming Show
Del Norte Association for Cultural Consciousness presents the work of artist Jonathan Gaetke, whose perform was recently showcased as section of DNACA's annual Juried Artwork Exhibition. The exhibit will be on exhibit at the Del Norte Courthouse from March 4 – April 22. To watch Jonathan's art, take a look at www.jonathanfineart.com. The courthouse is situated at 450 H St. in Crescent City, and is open up from 8 a.m. – 5 p.m. weekdays, apart from for point out holiday seasons. For facts, get hold of DNACA at 707-464-1336 or business [email protected] 
DNACA's 6th once-a-year "Art From the Inside" Exhibition
This is the previous week to check out the 6th annual "Art From the Inside" Exhibition, introduced by DNACA at the Del Norte Courthouse as a result of March 4. The show features artwork designed in Visible Arts workshops at Pelican Bay Point out Prison. This program supplies arts workshops at all 33 state prisons as a way to minimize recidivism prices and stop violence within prisons. The courthouse is located at 450 H St. in Crescent City, and is open up from 8 a.m. – 5 p.m. weekdays, besides for condition holiday seasons. For information and facts, get in touch with DNACA at 707-464-1336 or place of [email protected] 
Artist Edward Reidel – Forthcoming Show
Del Norte Association for Cultural Consciousness provides the get the job done of artist Edward Reidel, who lately received To start with Area in DNACA's 29th once-a-year Juried Artwork Exhibition. His exhibit will be on display at the 2nd ground mezzanine of the CEC Airport at 1650 Dale Rupert Highway, March 5 – June 17 as component of DNACA's Artwork in Public Sites program. The airport terminal's normal several hours are 6 a.m. – 8 p.m. weekdays, 6 – 10 a.m. and 5 – 8 p.m. Saturdays, and 6 a.m. – 2 p.m. and 5 – 8 p.m. Sundays. For details, get hold of DNACA at 707-464-1336 or place of [email protected] 
Susan McKay's "Reflections on Del Norte" Art Show
This is the final week to watch Susan McKay's substantially-admired exhibit entitled "Reflections on Del Norte," showcasing her acrylic paintings on birch board, on show by means of March 4 as section of DNACA's Art in Public Spots software. The show is on display at the 2nd ground mezzanine of the CEC Airport at 1650 Dale Rupert Highway. The airport terminal's common hrs are 6 a.m. – 8 p.m. weekdays, 6 – 10 a.m. and 5 – 8 p.m. Saturdays, and 6 a.m. – 2 p.m. and 5 – 8 p.m. Sundays. For information and facts, get in touch with DNACA at 707-464-1336 or [email protected] 
Crescent Metropolis Artwork at 1228 2nd St., Crescent Town, is open up to the general public Thursday – Saturday from noon – 5 p.m. Crescent City Art member artwork reveals incorporate Susan Humphry at the Del Norte County Library, Catherine Balck at the Wild Rivers Foundation workplaces and an exhibit of different artists at the Sutter Coastline Clinic Infusion Middle and in the Principal Corridor at Sutter Coast Medical center. For information connect with 707-460-1414.
"Colorful Critters of Del Norte County"
Wet working day routines are simple with the ebook "Colorful Critters of Del Norte County." The ebook is built for meditative coloring and pressure reduction for grownups and fun studying for children, with hand drawn illustrations by local artist Rosemary Garcia. Highlighting the "wild side" of Del Norte County with vibrant critters, the book incorporates captions in English, Tolowa and Yurok, and at the stop of the reserve interesting details about each of the 17 featured animals are bundled. A Limited Offer of "Colorful Critters of Del Norte County" is out there at Del Norte Workplace Supply at 240 I St., the Requa Inn at 451 Requa Street, Klamath, and at Wright's Personalized Framing in Brookings. For information and facts, contact DNACA at 707-464-1336 or [email protected]
Coastline Redwoods Art Affiliation
Coastline Redwoods Artwork Association, Crescent Harbor Art Gallery's February Artist of the Month is electronic artist David Saile. Each of David's is effective represents a meticulously crafted virtual world, inviting just one to move in and take a look at. Further new art is also on display screen in the gallery. The gallery is positioned at 140 Maritime Way in Crescent City and is open Tuesday by means of Sunday from 10 a.m. – 2 p.m. Encounter coverings are needed. For info contact 707-464-9133.
Gallery of Arts and Society
The Gallery of Arts & Lifestyle at 175 H St., Crescent City, is now open up. Masks and gloves will be expected according to the Office of Public Wellbeing, until eventually they are sure the virus is abating. The gallery has been sanitized and freshened and is completely ready to welcome visitors and readers. Gallery hrs are Tuesday as a result of Saturday, 11 a.m. – 6 p.m. For info, contact the Gallery at 707-464-4745. 
For group arts calendar listings, please visit www.dnaca.net. For inclusion in Arts Scene listings, things really should be sent to the Del Norte Association for Cultural Awareness (DNACA) at [email protected] by Tuesday of each and every week.