Born to Dance — Catherine Knight: Multi-Media Artist 'Visual music' | Valley Life
[ad_1]

Some people prefer dancing romantically, cheek to cheek in the moonlight. Others, 21st Century rock or hip hop, country line dancing, salsa, or ballroom dancing. Baby Boomers occasionally gyrate their versions of the "funky chicken" at class reunions.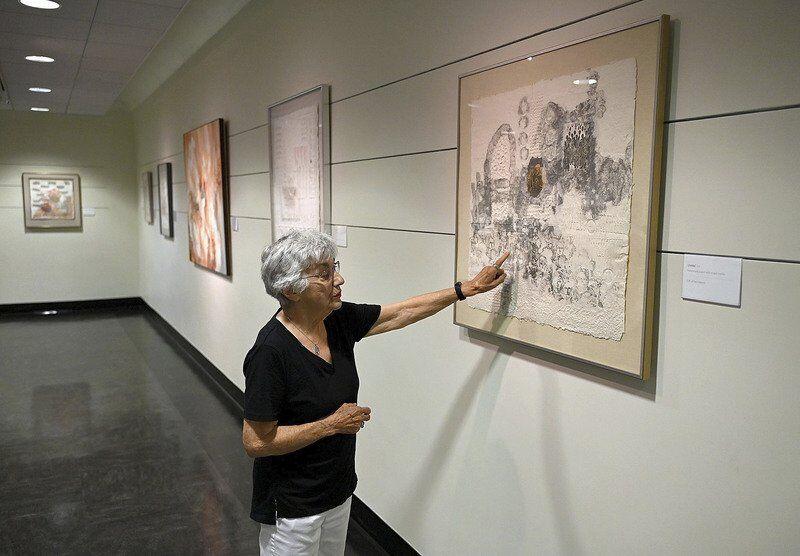 Terre Haute artist Catherine Knight is a Wabash Valley resident who often dances into the wee hours by herself in the basement art studio of her home. As she creates an outpouring of art from her bountiful imagination, she dances almost continually in front of her easel or worktable allowing the music's rhythm and the tapping of her toes to move her paintbrush and mind in new and daring ways.
"My paintings are my visual music for an audience of one," she said.
Knight was born and raised as one of eight children by a family of poor immigrant Italian parents who resided in Duluth, Minnesota. The family's radio stayed tuned to a station that played classical music, and her parents had an old piano in their home. All Knight's siblings were influenced by their parents' love of music. One of her sisters played an accordion professionally into her 80s. Three brothers also became musicians, and one still plays in the Duluth Symphony. Knight took up dancing to the music.
"I think making art should be fun," said Knight. "While I do my art, I listen to my favorite music and dance to opera arias or works by Chopin. I really love dancing to the music of 'Symphonie Fantastique,' by Hector Berlioz.
"I'm not really a good dancer. As the music moves me, I do free-form movements of my legs and body."
During June and July, the Swope Art Museum is presenting an art exhibition of the different kinds of Knight's work, which have made her so well-known in the Wabash Valley. The show's name — naturally — is "Born to Dance."
"'Born to Dance' really describes the spirit of Catherine's work and her free-spirited approach to creating art," said Swope curator, Amy MacLennan. "She's just wonderful. She's fearless about pushing her ideas until they can't be pushed any more. The result is art that is experimental and delightful."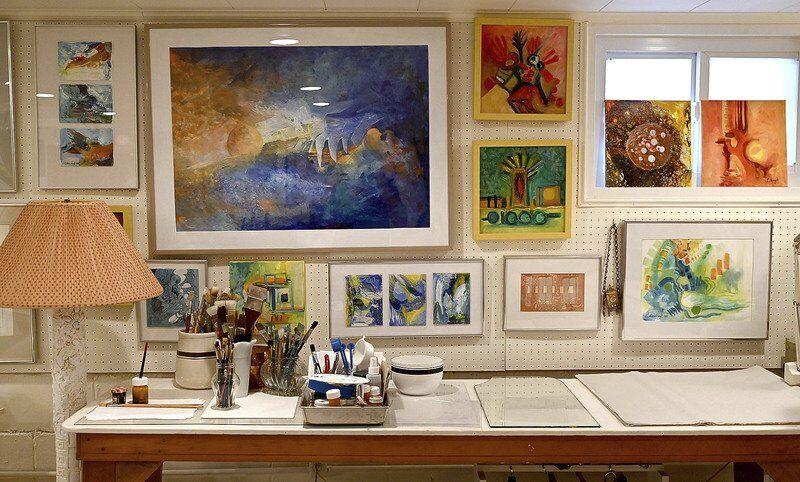 The Swope's exhibition of Knight's art was made possible when an avid collector of her works, former Terre Haute resident Neil Nelson, moved to Florida and could not take with him all of Knight's art that he owned. He contributed 15 of her framed artworks to the Swope.
"We're thankful Mr. Nelson gave us such a large and impressive collection," MacLennan said. "He donated enough art so that 'Born to Dance' can display the various types of Knight's art. In addition, the show will include pieces loaned from private collections and examples of her original jewelry."
Knight's vibrant acrylic oil paintings on paper and canvas are distinguished by exotic flowing patterns highlighted with bright splashes of vivid color, a flow of images inspired by her dancing music. Her most exuberant artwork often gets painted as she feels interior ecstasies when the music she is dancing to reaches crescendos.
"I'm a rather intuitive artist. I don't know how my paintings will end up when I start them. Sometimes after I start a painting, I can't visualize how to go further. I get angry. I stop painting until a satisfying idea how to proceed comes to me. If an idea does come — color that speaks to me — I get right back to work. I'll stay up all night until I finish an oil. If I'm working on a piece that I don't like after seeing what it has become, I throw it away and move on to another."
Knight has also made a name for herself with her dazzling multi-media paper art, which she learned at Indiana State University. She acquired the knowledge of how to make her own art paper from yucca plants, irises and hollyhocks. She has occasionally grown these types of vegetation in her garden before cooking the weeds in a vat to kill organic material. After further processing, she uses a press to get water out of the paper. Handmade paper will normally be laid over a custom matrix and possibly colored or inlaid with objects of art such as Egyptian symbols.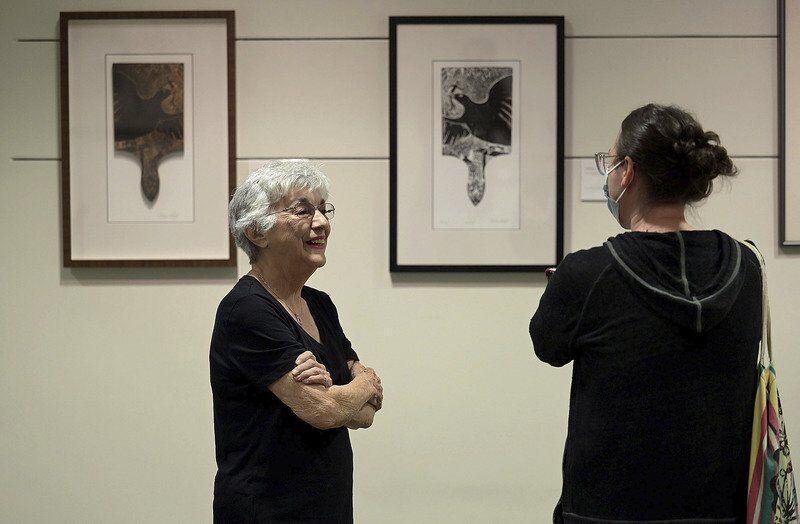 "Making art with layers of paper is painstaking," Knight said. "Once I place a sheet of paper on another, it fuses and cannot be changed. If I make a mistake, I must abandon the project and begin another."
Knight credits her former ISU art professor, David Erickson, with teaching her printmaking, which is accomplished by making precise molds forming the reverse image of what a print made from a woodcut will look like when ink is applied to the mold.
"I've been interested in art since I was a child," Knight said. "When we were kids doing art, our parents praised our work."
Young Knight began impressing people besides her parents with her art at an early age. A sixth-grade teacher was so impressed that he kept examples of her art on display in his classroom for 15 years. Her ninth-grade drawing of a big fist in a "DRINK — DON'T DRIVE" poster contest won her an award.
Knight had no college instruction as an artist until she moved to Terre Haute in 1977. Her arrival in town came to pass as a roundabout consequence of her decision after high school to attend a Minnesota business college, where she learned to type. The FBI came to her college looking for recruits who would move to Washington, D.C., and work as typists. She agreed to go, and she ended up loving Washington, although she hated typing. More important for Knight, while she lived in D.C., she met her husband, Joel. The couple is still married and have four adult children.
Her new husband was in the Air Force. After marriage, the next part of Knight's life was being a globe-trotting Air Force wife until her husband got assigned to Hulman Field in Terre Haute.
"During the time I was traveling from base to base with Joel, I kept up with my artwork while raising my children," Knight said, "I was very traditional. I could paint anything I could see. I even won a few contests at art shows, but the people I was competing with were Sunday painters, not professional artists."
Soon after arriving in Terre Haute, Knight enrolled in art classes at ISU.
"My schooling at Indiana State forced me to stretch into new areas," she said. "I studied different forms of painting than representational. I learned about photography, ceramics and printmaking.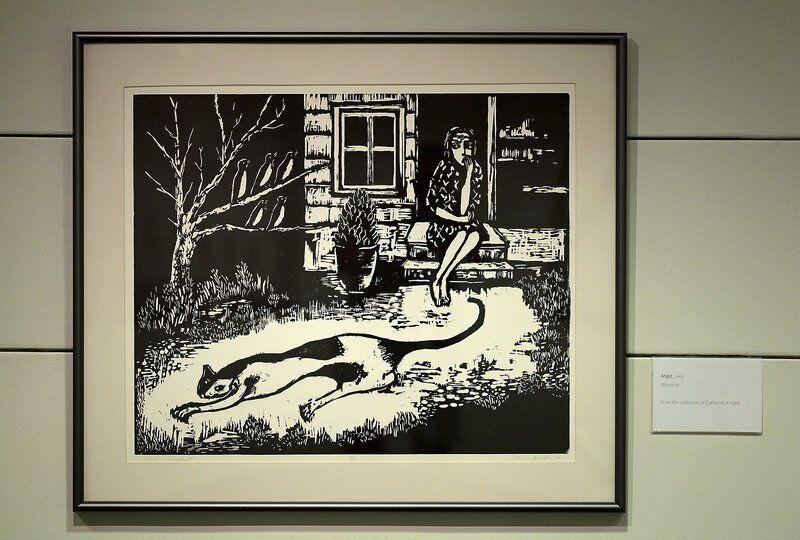 "At ISU I got an education in how to use metal-making tools necessary for making my enameled jewelry. My jewelry often has components like discarded bits of copper wire and tubing. I've even gone to Goodwill to buy junk jewelry. I disassemble it for parts for use in my original pieces of jewelry. … Lots of people around Terre Haute have some of my jewelry. For several years I sold my works at The Station Floral Hair and Design Studio."
After eight years Knight finished her undergraduate degree. One of her art professors, Fred Bunce, encouraged her to go for a master's of fine arts degree. ISU then gave her a full scholarship to work on her MFA. When she finished her master's, she worked for three years as the gallery director at St. Mary-of-the-Woods.
She eventually focused on doing her own artwork while teaching art at the Swope.
"Art is not about making money for me," Knight said. "I just want to make enough to pay for my art supplies."
Representing ISU, for a while Knight was one of Indiana's traveling artists. Her art has often been juried into the sales gallery at the Indianapolis Museum of Art, plus other galleries around the world, and Indiana galleries in New Harmony and Greencastle. Some Knight artwork has made its way into collections in France and China. In Terre Haute, her work is often displayed at Arts Illiana.
"Terre Haute's a good town to be an artist. I've always enjoyed being around the other artists who make their homes here," Knight said. "I'm glad that over the years people in the Terre Haute area have become more receptive to sophisticated forms of art."
Knight still actively creates art as she glides, slides, and toe-taps her way around her worktable or easel.
"Recently, most of my artwork has been jewelry," she reports, "but I like to switch it around. I've also done some paintings and a couple of prints."


[ad_2]

Source link