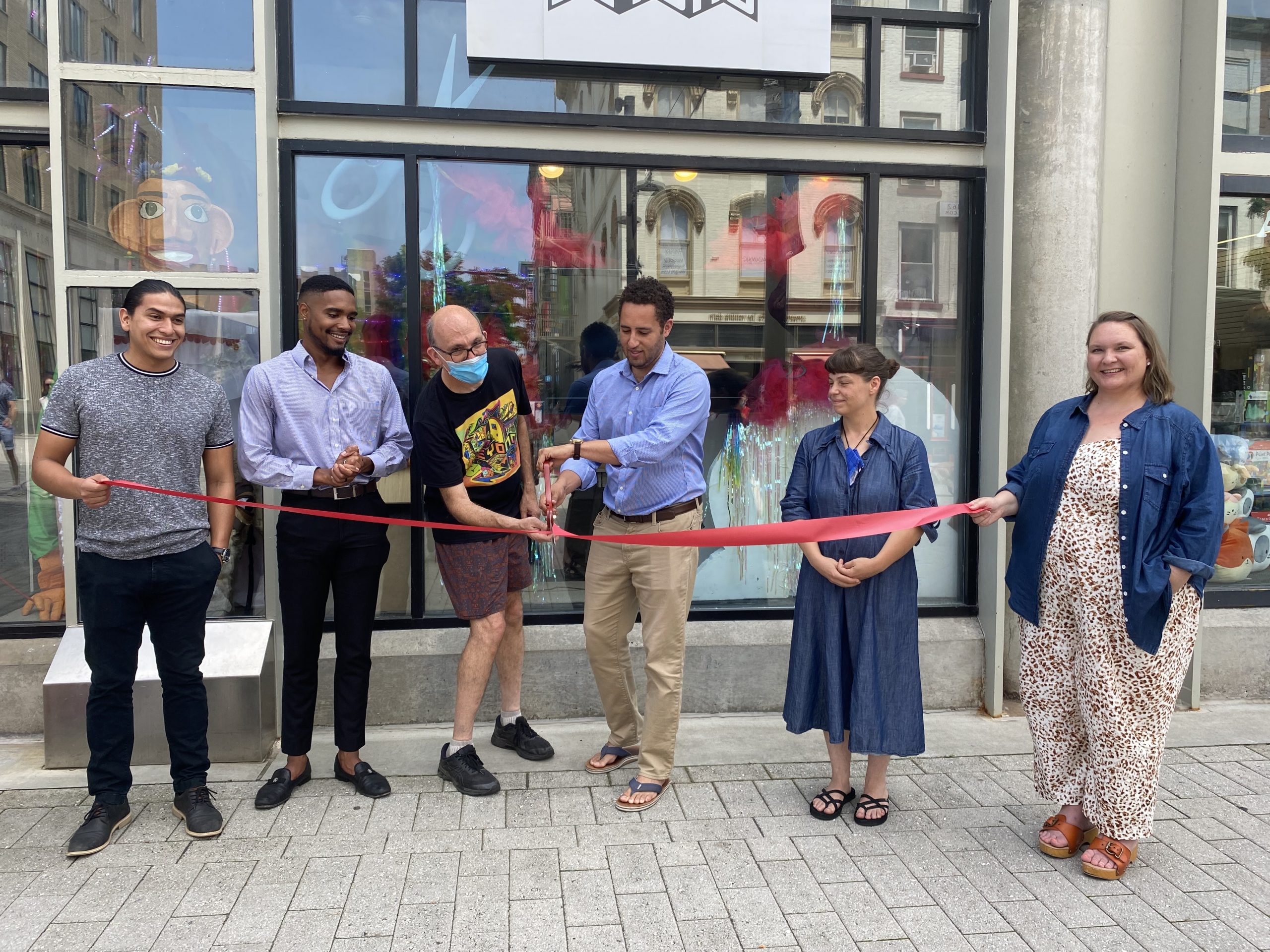 City welcomes new artwork exhibit downtown with ribbon slicing
ITHACA, N.Y. –– Earlier this month associates from the Metropolis of Ithaca, the Downtown Ithaca Alliance and Middle Ithaca welcomed the Over and above Art Pop-Up Interactive, Immersive Art Installation to the Commons with a celebratory ribbon slicing.
Explained by DIA Communications Manager Darlene Wilber as, "an incredibly fun and partaking expertise for all ages that is the perform of a collective of around 20 extremely skilled local artists," the area attributes reveals this kind of as a 12-foot tall rideable unicorn, an "infinite fluorescent forest," a place lined in fake fur, primary online video games and consoles, participatory costume, fabric and performance artwork, a traveling UFO, robots, and "much far more."   
"Beyond has absent further than our anticipations." Outside of Artwork Co-Creator Doug Shire explained for the duration of the August 13 ceremony. "I'm thrilled with the awesome community artwork collective that has come jointly to build an show that is genuinely magical and exclusive. This exhibit is compared with nearly anything we have at any time observed just before on the Commons. We're delighted to be open." 
Outside of has taken up residency at 171 E. Condition Street, the Commons. They are open up from 4:30 p.m. to 8:30 p.m. on weekdays, with extended hours on weekends.
In addition to Shire and his other co-founder/guide artist Laurence Clarkberg the house consists of art by  Angelina Blasich, Tony Bond, Allen Cosgrove, Tico Chango, John Fuchs, Lily Gershon, Karl Gesslein, Caleb Harrington, Kaylyn Kilkuskie, Savan Karamardian-DeSouza, Wendy Marvel, Cai Quirk, Elsa Quirk, Victor Rakovich, Mark Rosen, Liz Sciore-Jones, Norm Scott, Phoebe Shalloway, Judy Swann, Damaris Vasquez, John Walsh, Will Weave, and Annemarie Zwack.
"We thank Doug Shire and the 20 neighborhood artists who created this immersive, interactive, household-welcoming encounter in our neighborhood. The show is certainly extraordinary."  DIA Board of Directors President Ashley Cake said.
Adding to the praise, Town of Ithaca Mayor Svante Myrick claimed "This Past show is outstanding. It transports you to an additional position. I walked through its portal and within just five minutes I forgot that I was walking in Middle Ithaca. I'm delighted to support the resourceful work Doug and his team have accomplished to transform this place." 
Past closes at the conclude of the month, so get there prior to it's long gone.