People and Places – week of July 9, 2021 | Articles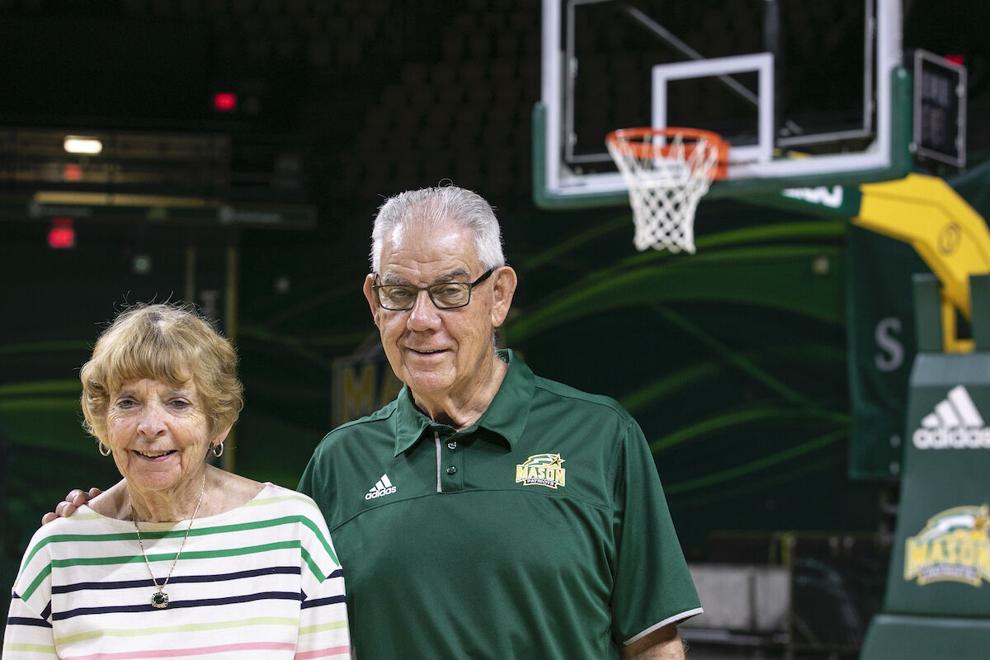 Couple says goodbye after combined 90 years of service at George Mason
Jay and Carolyn Marsh are bidding adieu to George Mason University after a combined 90 years of service. But the larger-than-life roles they played in the university's Athletics Department are here to stay.
The couple, which officially retired as university employees on June 30—Jay as senior associate athletic director for events and facilities, and Carolyn as executive assistant for men's basketball — have showcased their deep affinity for Mason with a $50,000 gift to the Mason men's and women's basketball programs as part of the locker room renovations. The gift was also used to fund the creation of the men's basketball film room, known as the Carolyn Marsh Film Room.
"We had already committed to an endowed scholarship here at the university for athletics—basketball," Jay said. "We decided to take another $25,000 and donate toward the locker rooms because we knew we could get this done."
Jay said putting Carolyn's name on the film room couldn't be more appropriate, even if he did have to initially sell her somewhat on the idea.
"I just felt with the contributions Carolyn has made to the basketball program, it would be special," he said. "Everybody would go in there every day and see it."
The couple has been among the most devoted supporters of Mason athletics since they first began working for the university. And they've influenced scores of lives along the way.
The couple first met at a country dance while Jay was finishing a two-year stint in the Army, and they married in 1967. In December 1975, Carolyn started at Mason as a sports information assistant, and eventually became the trusted executive assistant to all eight Patriot men's basketball coaches since.
She said she still receives calls and cards from the players.
"The players," she said when asked what gave her the most satisfaction from the job. "I just feel like I'm a mom."
Jay, who graduated from Mason in 1973 after completing his military service, played two seasons of basketball for former coach John Linn while finishing his degree work.
He followed Carolyn back to Mason in May 1976, when he began to serve as business manager while also overseeing the equipment room and facilities. His duties in the coming years also included working as a fundraiser for the Patriot Club.
Jay wore whatever hat was necessary to make sure events were successful and that Patriot student-athletes enjoyed the experience.
Mason hosted the first Colonial Athletic Association basketball tournament in 1986, and things ran so smoothly the conference asked Jay to run the tournament, regardless of future locations. He did so until Mason left the conference in 2013.
During Mason's improbable run to the 2006 Final Four, Marsh was responsible for organizing the team's travel arrangements to Indianapolis. He said he fondly remembers the team bus pulling onto campus after Mason's victory in Washington, D.C., over top-seeded UConn to reach the Final Four, and seeing as many as 8,000 raucous fans in the arena awaiting their return.
"To walk in there and see all those kids and all that excitement was unbelievable," he said.
Jay said he also holds a special place in his heart for the women's soccer Final Four Mason hosted in 1985. The Patriots stunned three-time reigning national champion North Carolina in the championship game, marking the only time over a 13-year stretch that the Tar Heels did not win the NCAA Championship.
Next up for the Marshes is spending catching up with friends and family. But they said their love for Mason remains strong, and they will continue to be regulars at many campus events, including at EagleBank Arena this coming basketball season in the seats Carolyn has had for years.
"We never thought it would last this long," Jay said, "but there are a lot of great people at George Mason University."
Leidos announces leadership changes
Leidos, a FORTUNE® 500 science and technology leader, today announced leadership changes as part of ongoing efforts to optimize internal processes and develop talent.
The following changes became effective July 5: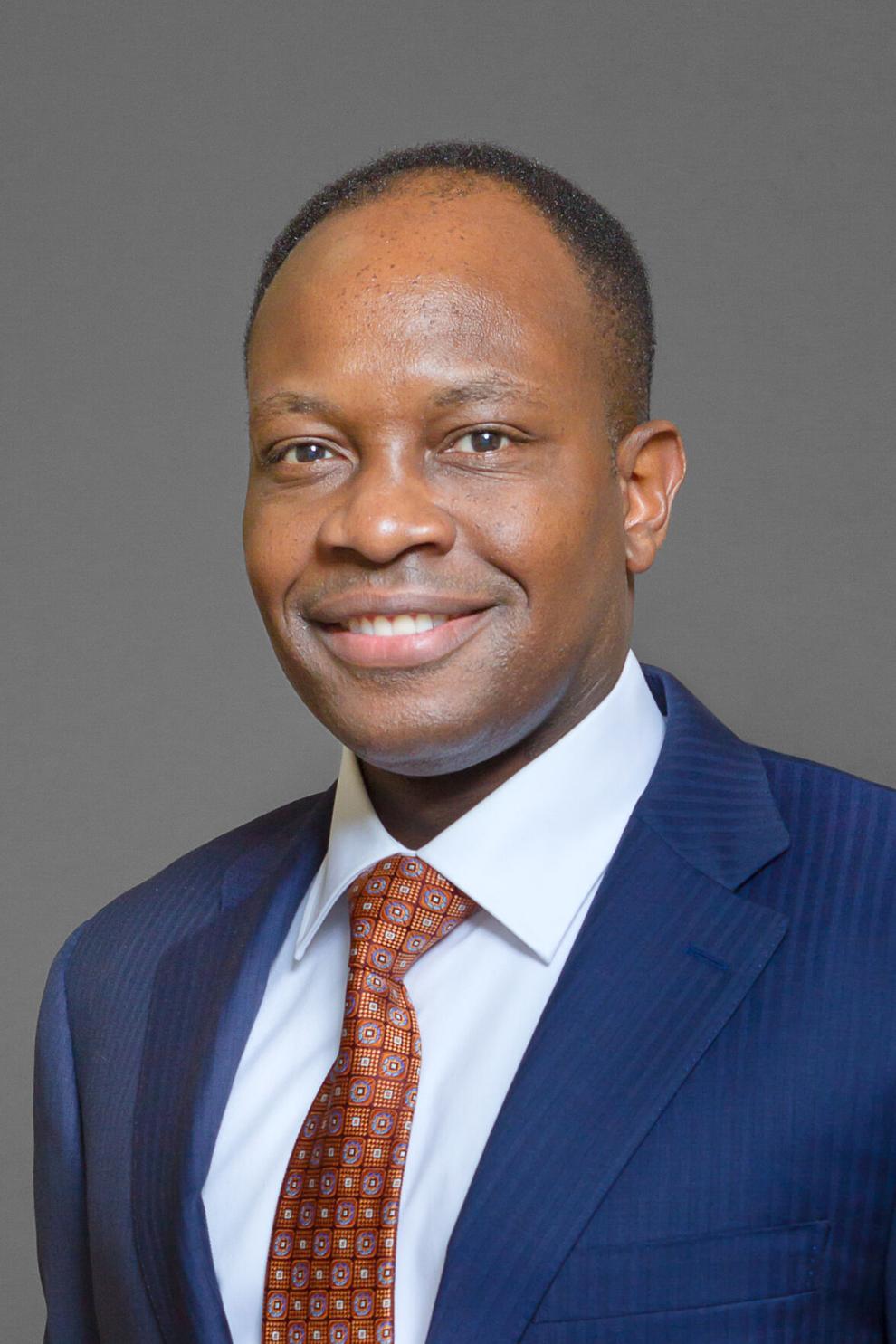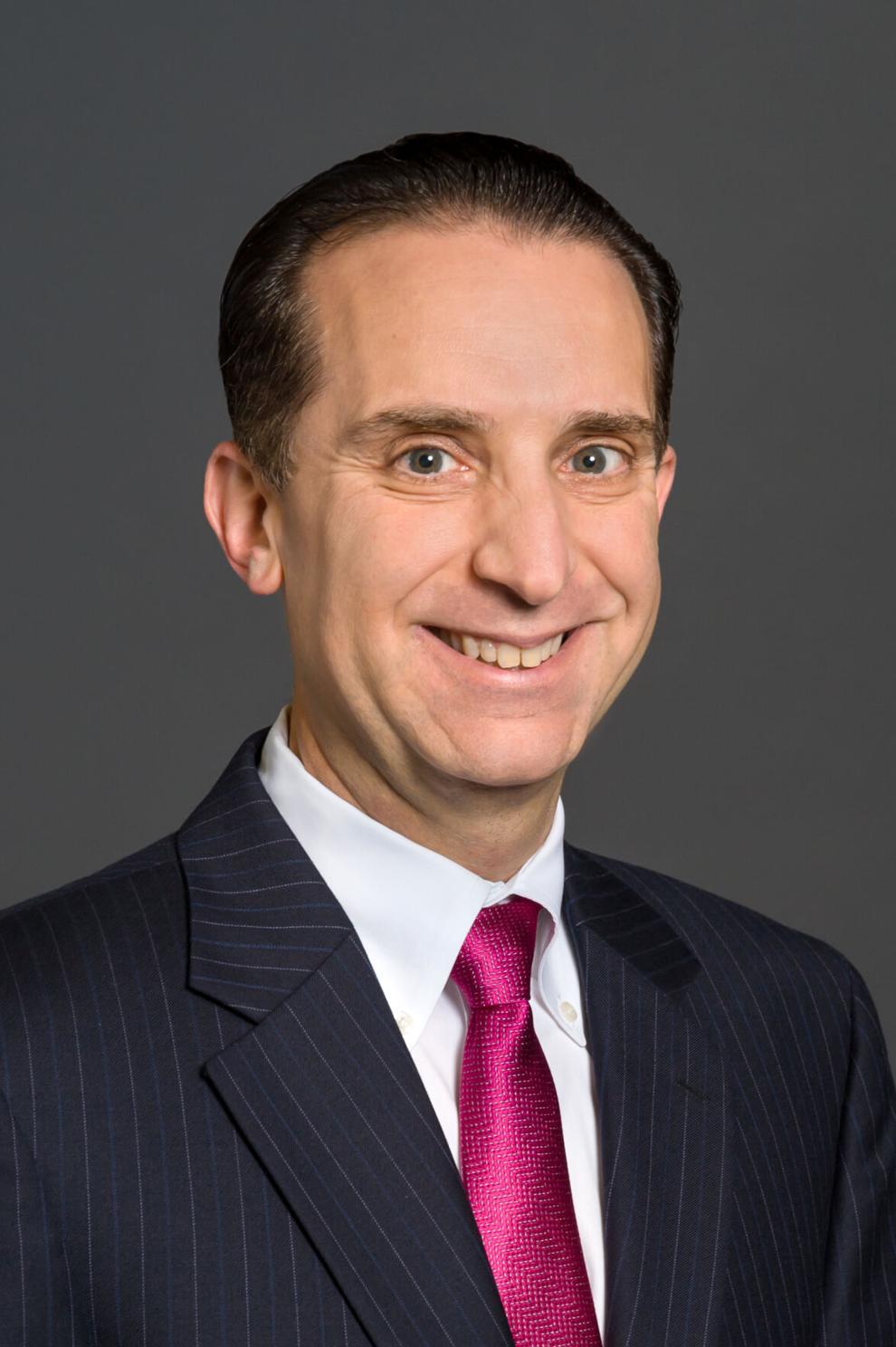 Chief Human Resources Officer (CHRO) Paul Engola will serve as EVP, National Security Space, leading a strategic effort, in cooperation with all business groups, to help chart the way forward in this market. Previously, Engola served as deputy group president for Leidos' former Defense and Intelligence Group, as well as in various roles within Lockheed Martin Space Systems. George Reiter, senior vice president for Leidos' Human Resources Centers of Excellence, will act as CHRO while a thoughtful search for a replacement is conducted.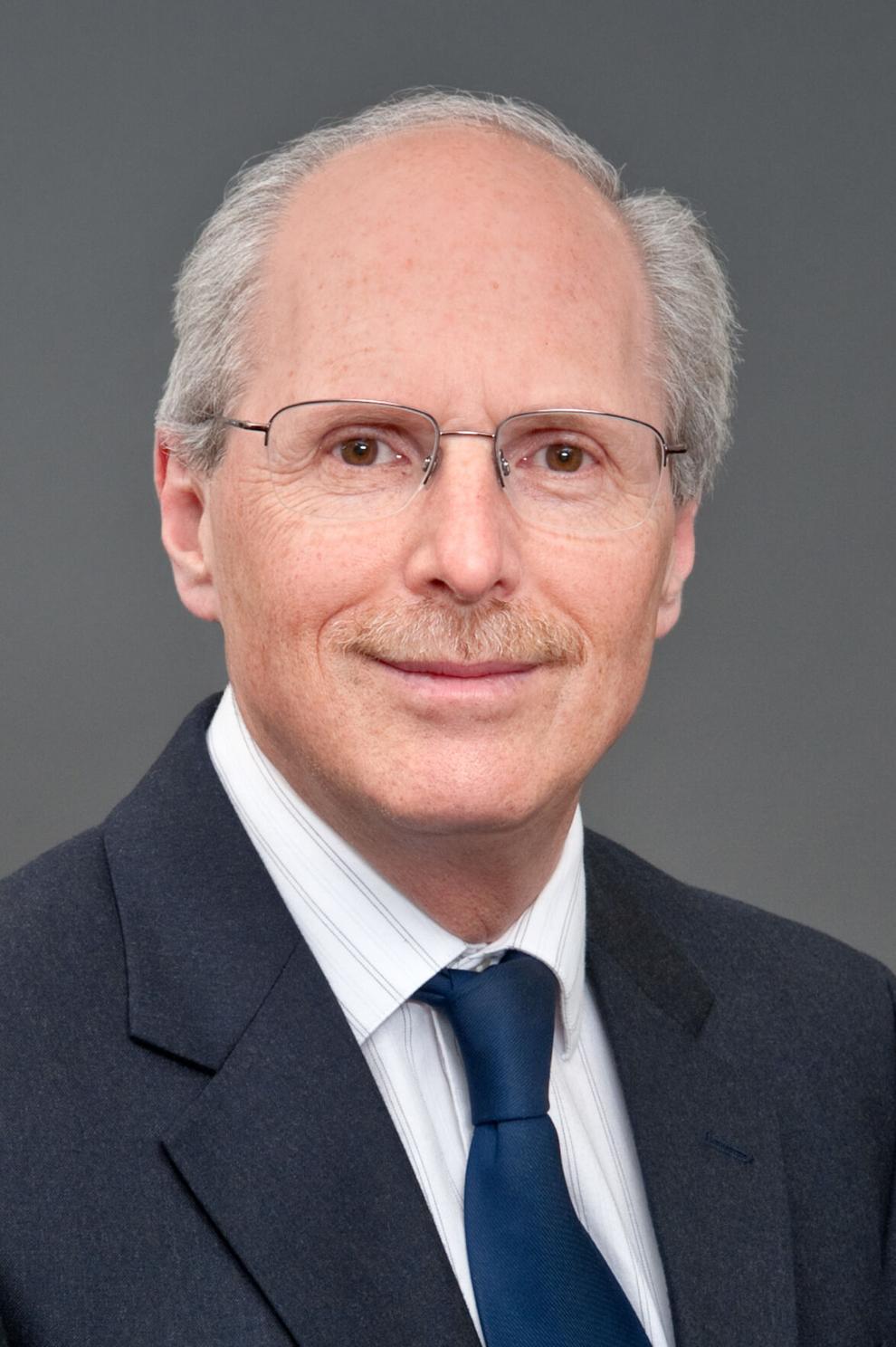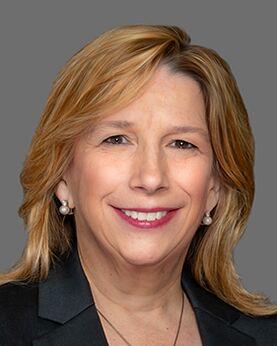 Jim Cantor, chief of Performance Excellence and Strategic Partnerships, has announced his intent to retire this year and, as part of that transition, change to consulting employee status. Consequently, the company is creating a Corporate Operations role to drive operational performance and the implementation of strategic functional initiatives. This role will include the responsibilities of Performance Excellence and Strategic Partnerships, as well as Corporate Real Estate and Facilities, Security Operations, Marketing and Communications, and Corporate Strategy and Special Projects. Vicki Schmanske, current Intelligence Group president, will assume the role of EVP, Corporate Operations. Prior to her current role, Vicki held roles at Leidos including chief administrative officer, and deputy president and chief operations officer for Leidos' Health Group. She also brings expertise from various leadership roles at Lockheed Martin.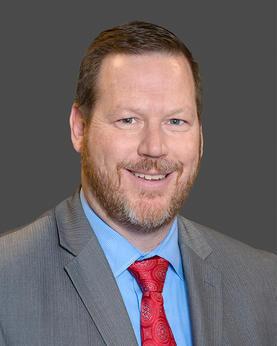 Roy Stevens, current head of Business Development and Strategy, will succeed Schmanske as president of the Intelligence Group. Previous to his current role, Stevens spent 20 years with Lockheed Martin in a variety of executive level positions both in program execution and business development, for multiple lines of business. Bill Bender, senior vice president and strategic account executive, will act as chief of Business Development while a search for a replacement is conducted.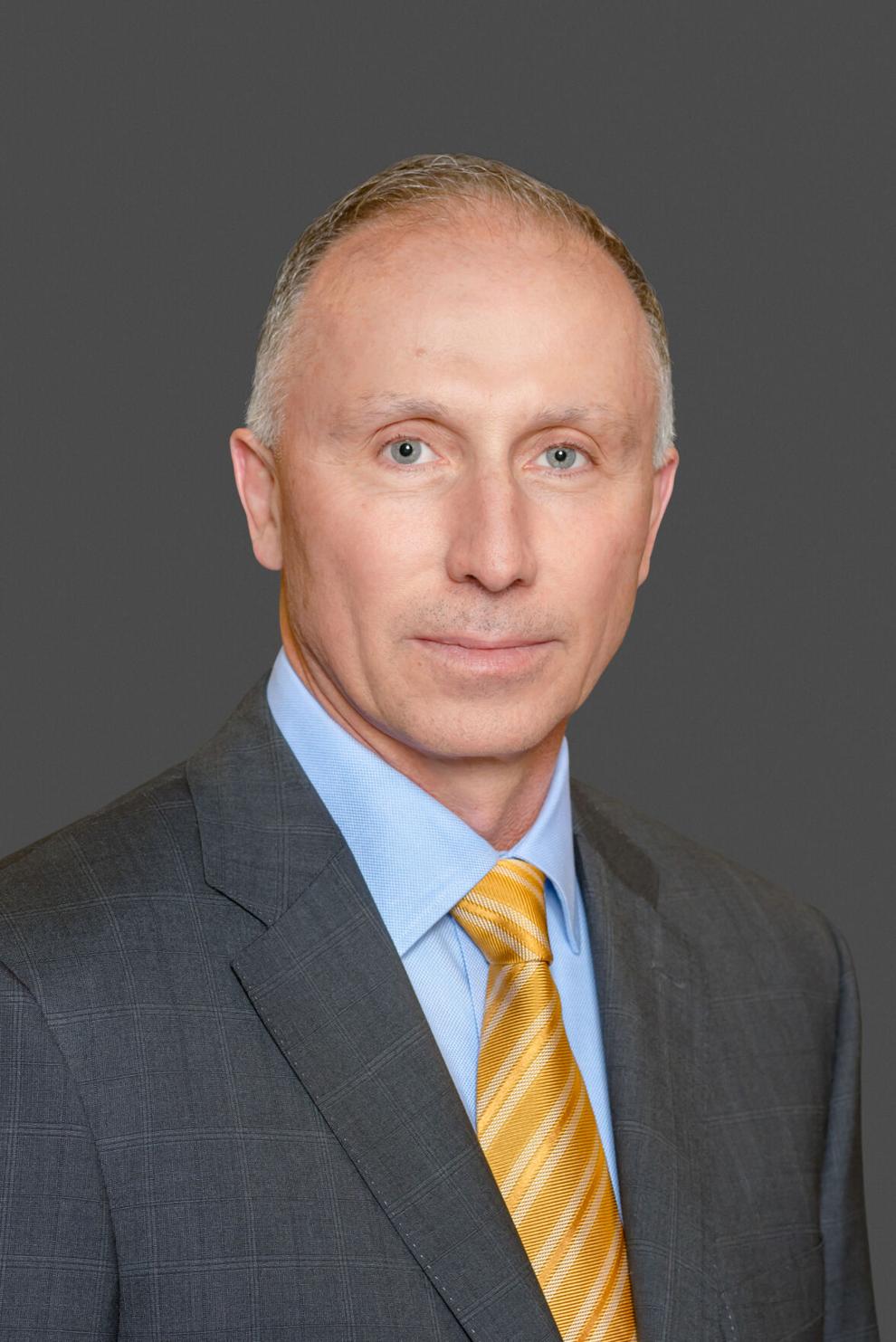 "These leaders have demonstrated their commitment to the Leidos team and expertise in multiple fields," said Roger Krone, Leidos chairman and CEO. "As we continue to grow as an enterprise, we must adjust to the changes we will see in our addressable markets. Our ability to remain flexible and agile in addressing customer needs is vital to our success."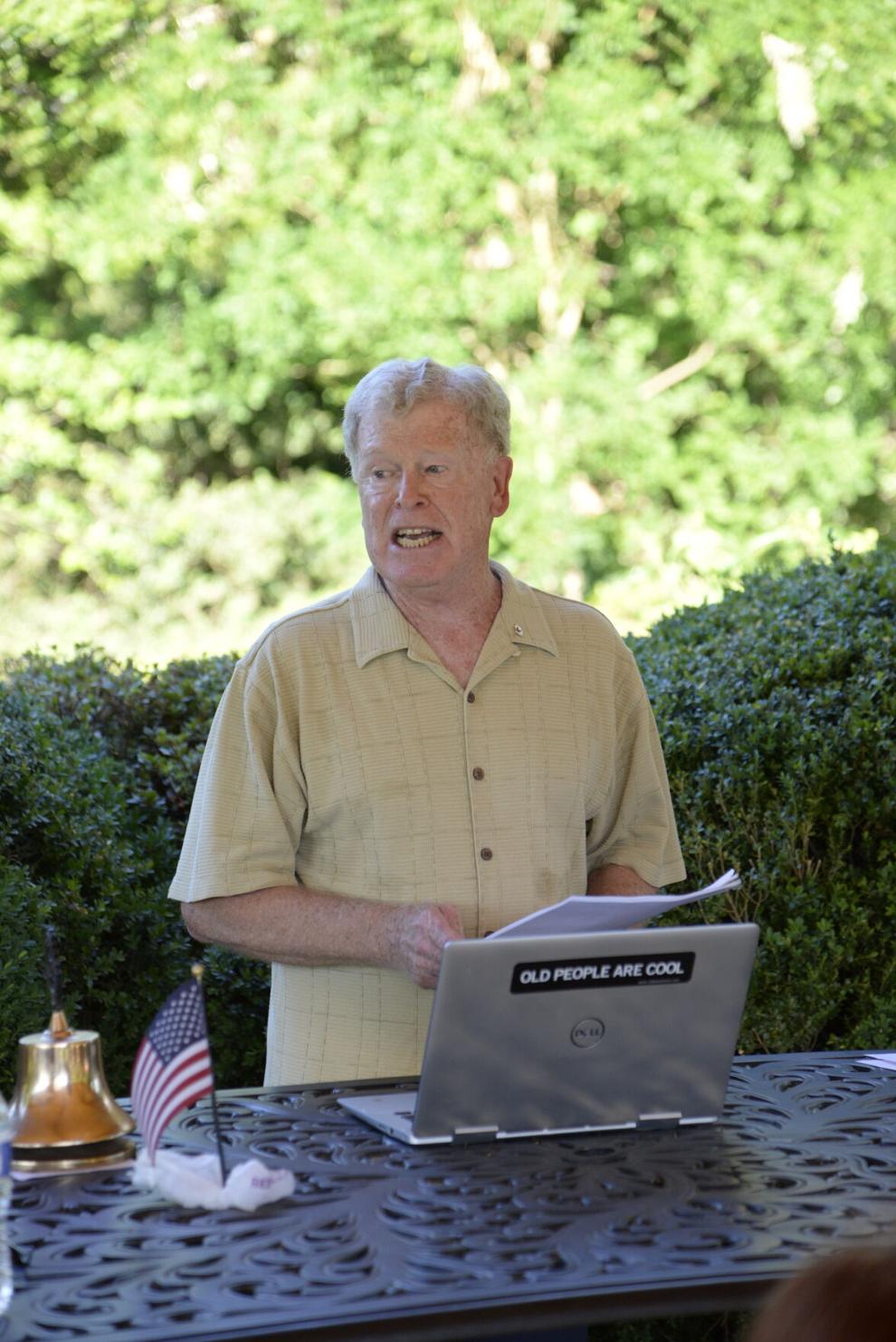 McLean Rotary Club installs new president and officers
John McEvilly was installed as president of the Rotary Club of McLean, for the Rotary Year 2021-2022, June 29, during a special meeting held at The Lewinsville Retirement Residence. 
McEvilly previously served as club president in 1999-2000, and as president of the McLean Rotary Club Foundation in 2016. He retired in 2020 after a successful career in commercial real estate, most recently as a principal of Avison Young. He also served as an officer with the U.S. Marine Corps during the Vietnam War, completing one and one-half tours with the 1st Marine Aircraft Wing at Da Nang, Republic of Vietnam.
McLean Rotarian and Past President John Tharrington inducted McEvilly and the club's new officers and directors. This was the first in-person meeting of the club since the beginning of the coronavirus pandemic. Members have been meeting virtually each week, an option also provided for the installation.
McEvilly thanked the outgoing Club Board of Directors for keeping the McLean Rotary Club together and functioning during the past year of difficulty. In his address to the club, he also stressed that the club needs to add younger members, increase its public image, resume its fundraising activities, expand its reach to at-risk children in nearby communities, and modernize by automating its record keeping and administrative functions.
At the installation, McEvilly also announced that he and his wife Brenda are "pleased to honor the memory of Teresa Caldwell, former principal of McLean High School, with a scholarship in her name." It will be given to a graduating McLean High School senior who has been given a second chance academically to attend college. The scholarship will be awarded annually for the next five years through the McLean Rotary Club Foundation.
Club officers for the coming Rotary year include: Glenn Yarborough (vice president), Carmen Wu (president-nominee/secretary), Courtney Nuzzo (immediate past president), Richard Golden (treasurer), and Paul Sawtell (sergeant-at-arms). Club directors include: Carol King (administration), Deborah Jackson (membership), Eva Sereghy, Lynn Heinrichs, and Richard Golden (public image), Andy Briscoe (service projects), Ray Petniunas (liaison to McLean Rotary Club Foundation), Bob Jansen (youth services), Michael Arietti (grants), and Lois Wilson (international service).
Three-minute thesis competition recognizes 6 GMU graduates
The final round of George Mason University's fifth annual Three-Minute Thesis (3MT) competition was held virtually on April 9. From this year's 13 finalists, the judges chose three first-place winners—two doctoral students from the Department of Bioengineering in the Volgenau School of Engineering and a PhD student from the Department of Psychology in the College of Humanities and Social Sciences—and three second-place winners.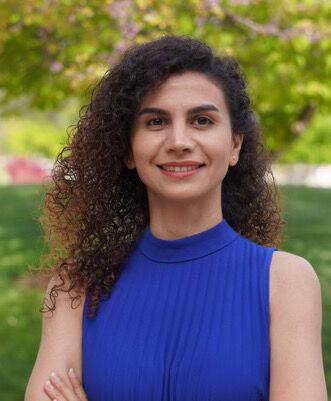 Mason bioengineering PhD student Sara Hadad spoke on "Predicting Brain Aneurysm Growth," explaining what an aneurysm is and describing the artificial intelligence (AI) computer model she is working on that could help predict which aneurysms are dangerous and need immediate treatment.
Hadad said she wanted to participate in the competition because, as a PhD student, she is often asked about her research.
"It can be quite challenging to explain my research," said Hadad, who has bachelor's and master's degrees in mechanical engineering from the Isfahan University of Technology in her native Iran. "So I thought this competition would give me an opportunity to practice explaining my research in a short time to nonspecialists."
Hadad came to Mason to work with Juan R. Cebral, who leads Mason's Computational Hemodynamics Lab and is a leading expert in this field. She was also interested in the campus culture.
"As an international student, being in an international-friendly environment is important to me," Hadad said. "And Mason is very good at making students from other countries feel comfortable."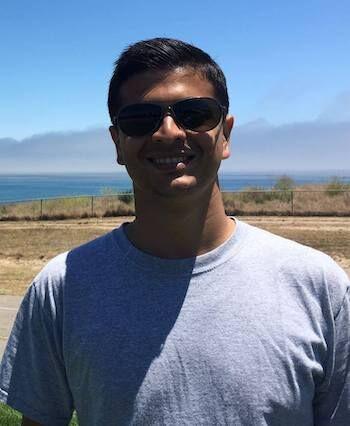 While bioengineering doctoral student Shriniwas Patwardhan wasn't worried about the public speaking aspect of the competition—he has a theater background, he did feel challenged to explain the work he does without using jargon when presenting "The Senses and My Hand: An Investigation for Multi-Sensory Feedback for Prosthetic Control."
"I think that being able to communicate your work to a broad audience is almost as important as being able to do the work itself," Patwardhan said of his reasons for entering the competition. "If I have truly understood the problem at hand, I should be able to explain it to an audience with any expertise level within any given timeframe."
Patwardhan, who is working with Mason bioengineering professor Siddhartha Sikdar in Mason's Biomedical Imaging Lab, came to Mason to specifically to work with prosthetics.
"Mason offered me a chance to follow my passion of working closely with prosthetics and more broadly with all types of interesting questions in rehabilitation science," said Patwardhan, who has BE in electrical engineering from the University of Pune and an MS in electrical and computer engineering from the University of California, Santa Barbara. "I decided to join my current lab because it offered me the freedom and opportunities to follow my research interests wherever they may lead me."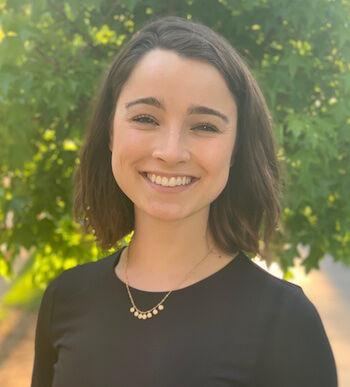 Clinical psychology PhD student Paige Trojanowski, who spoke on "Preventing Eating Disorders in Teen Girls with Type 1 Diabetes," explained how disordered eating can lead to medical complications for teens with Type 1 diabetes and described a prevention program she developed and tested.
Trojanowski is in the sixth year of Mason's Clinical Psychology PhD program and is preparing to start her clinical internship at the University of Florida in the Pediatric Psychology Track.
"I will work mainly with children and adolescents with medical conditions—such as Type 1 diabetes, cancer, and cystic fibrosis—and their families," said Trojanowski, who has a BS in neuroscience from Ohio State and MA in psychology from Mason. "I defended my dissertation right before leaving [Virginia] but will be spending significant time writing it up for publication over the next year."
Trojanowski said she came to Mason to work with Department of Psychology professors Sarah Fischer and Robyn Mehlenbeck.
"Dr. Fischer was conducting research in eating disorders, and I was especially interested in her neuroimaging work," Trojanowski said. "However, I realized once I started that I did not want to do neuroimaging work, and I fell in love with pediatric psychology and working with kids with medical conditions."
The second-place winners were writing and rhetoric doctoral student Sarah Johnson, who spoke on "Mortuus et Vivus, Absent et Present: Identifying and Dismantling the Standard English Paradox"; environmental science and public policy doctoral student Chase LaDue, who spoke on "Using Integrative Science to Conserve Asian Elephants"; and education doctoral student Sara Montiel, who spoke on "Exploring the Assets of First-Generation College Students Who Are Children of Immigrants."
First-place winners were awarded $1,000; second-place winners received $750.
Laurence Bray, associate provost for graduate education at Mason, said the competition has grown each year.
"This year was different as doctoral students had to face additional challenges due to the pandemic, which in most cases resulted in limited research capabilities," said Bray, who coordinates the event. "It really showed our students' perseverance and resilience."
Judging the competition was a combination of scientific community members and Mason faculty and staff: Dulce Carrillo, coordinator of community engagement of Arlington Public Schools; Kimberly Holmes, associate dean for student affairs in Mason's College of Health and Human Services; Robert Duncan of the U.S. Food and Drug Administration's Center for Biologics Evaluation and Research; and Hironao Okahana, associate vice president of research and policy analysis of the Council of Graduate Schools.
Originating in 2008 at Australia's University of Queensland, 3MT competitions now take place annually at more than 900 universities across 85 countries.
"Having such a strong group of presenters and listening to their work made [this competition] even more special," Bray said. "I am very proud of all the students who took the time and found the motivation to compete this year."