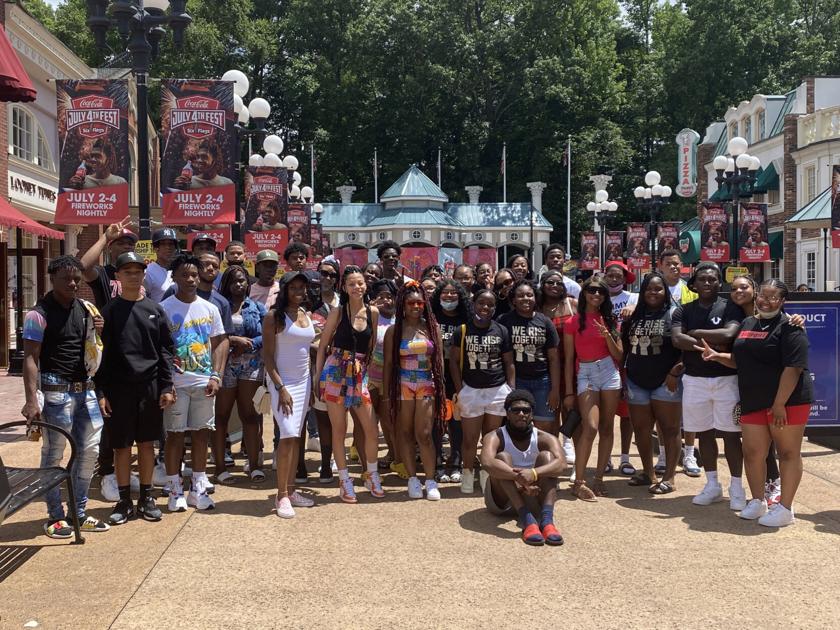 Scholars visit schools, attractions | Local News
DANVILLE — The Ubuntu Mentoring program hosted at the Laura Lee Fellowship House completed a College Cultural Tour from June 28 through July 3.
Thanks to East Central Illinois Community Action Agency, The Ubuntu Mentoring program was able to take 40 Black high school scholars to three different states to tour five colleges and participate in various cultural enrichment programming.
The trip was originally an idea created amongst the coordinators upon the launching of the Ubuntu Mentoring program.
"Honestly, I did not know how we would afford this trip without charging the students a fee. Marla Dye and I were brainstorming about the idea of taking our scholars to Nashville when creating the blueprint in November. We had no idea that this would manifest into an all-expense-paid trip to visit three different locations over a week. I am forever grateful to ECICAA and CEO Odette Watson for offering this opportunity to our students and creating a bridge for future programming," David Groves, executive director of the Laura Lee Fellowship House, said.
The five colleges students traveled to were the University of Southern Indiana, Tennessee State University, Fisk University, Georgia Tech and Georgia State. Each institution featured programming and outreach that was beneficial to the overall understanding of the importance of selecting the right college.
Scholars also learned from Stanley Gouard, USI head men's basketball coach and Danville native, the importance of Danville natives engaging in sports at the collegiate level.
Dominique Davis, Tennessee State University's 80th student body president and Danville native, discussed the importance of HBCUs and the rich history of HBCUs, and how they are thriving now. During the visit, students were also able to participate in an etiquette dinner in Nashville, in which they learned from Milea Poke about the importance of foundation and her journey to law school. Before the etiquette dinner, scholars participated in a group photo shoot by published photographer Thomas Crowder III. Each scholar received four headshots, a group photo, and a King/Queen photo to take for memory.
Other attractions that scholars were able to visit were the Six Flags over Georgia, Main Event, and malls at Nashville and Atlanta, where students got the chance to meet one of their favorite rappers, Lil Baby.
Originally, Scholars were to visit Vanderbilt University, Morehouse, Spellman, and Clark Atlanta University. However, due to Covid regulations, scholars were not able to see the locations.
Scholars did receive information regarding each tour and offered a virtual tour to view at their convenience.
Marla Dye, the Ubuntu program coordinator, stated, "It was a blessing to show our youth that there is a big world out here, outside of Danville, and there are many people that look like them doing great things."
East Central Illinois Community Action Agency, located here in Danville, sponsored the College Cultural Tour. The ECICAA paid for housing, food and travel expenses for each scholar apart of Educational Talent Search.
ECIAA also plans to sponsor another summer trip within the next month. If you are interested in being a part of a great summer program and visit different institutions, please contact Shane Huerta at 217-554-9112 or email [email protected].
The Laura Lee Fellowship House, located here in Danville, launched Ubuntu Mentoring in November of 2020. Ubuntu, which stands for "I am because we are" encourages scholars to take responsibility in rebuilding the village that once allowed many like the program directors to grow. The Ubuntu Mentoring Program was founded to take the initiative to develop proper programming for the youth and create opportunities that will enhance critical thought processes on various subjects such as mental health, black enterprise, and effective leadership. If you would like to learn ways to volunteer or serve as a mentor, please email David Groves, executive director at: [email protected].