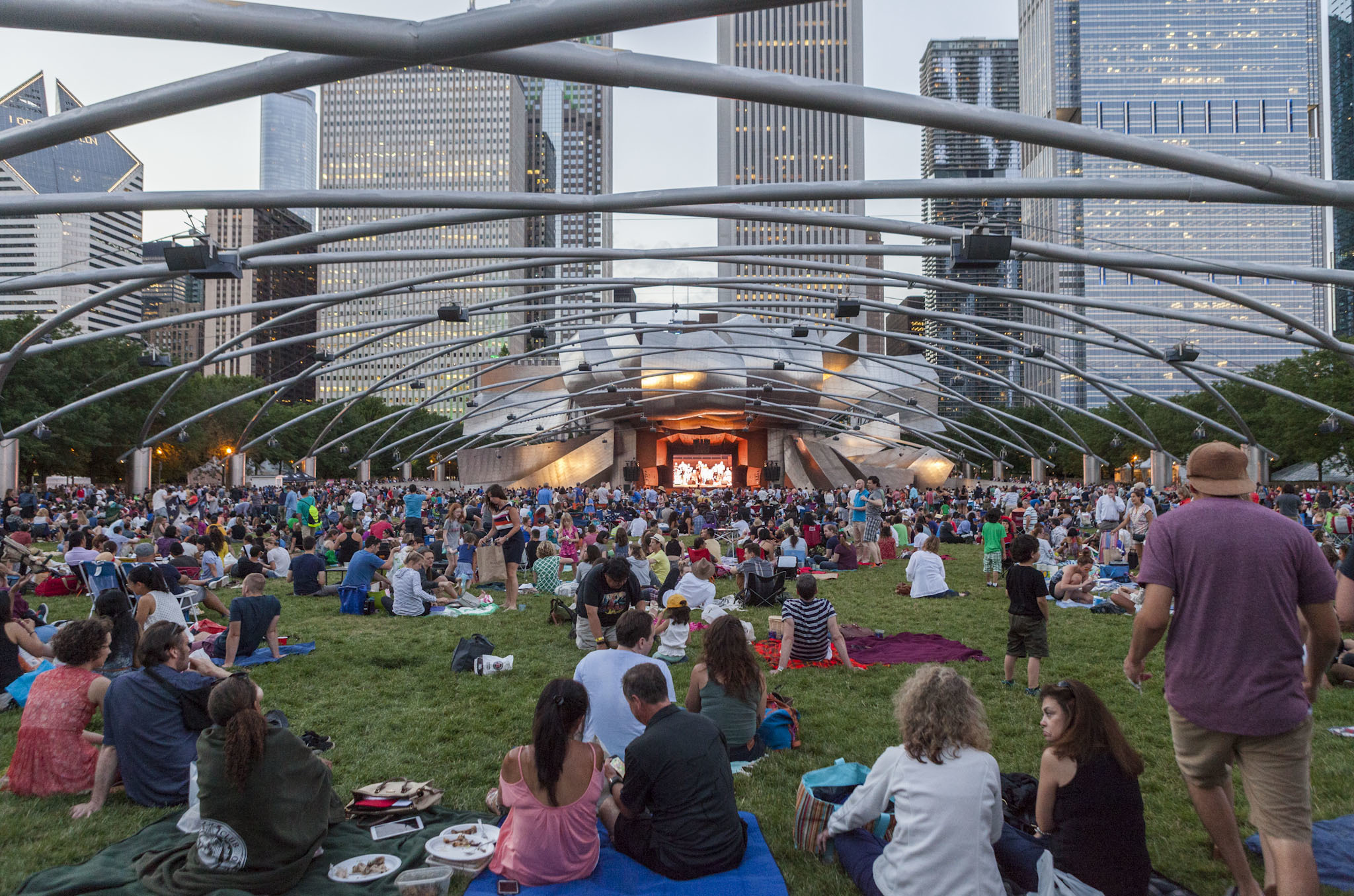 Take a look through Chicago's latest lineup of summer events
Last month, Mayor Lori Lightfoot and Chicago's Department of Cultural Affairs and Special Events (DCASE) announced a preliminary programming lineup for Open Culture, a new initiative that aims to bring back tons of annual cultural events in Chicago (and debut some new ones, too). That list heralded the return of events like the Hyde Park Jazz Festival, the Millennium Park Summer Music Series, Chicago SummerDance and other summertime standbys, in addition to new programming like the Chicago In Tune festival, which will highlight gospel, blues, jazz and house music in a series of Pritzker Pavilion concerts.   
Now we've got even more programming to look forward to this summer, as DCASE has announced an additional list of cultural events headed to Chicago over the next few months. The sprawling list features a new house music series, pop-up movie screenings in Millennium Park, 16 city-sponsored community events and more outdoor programming, as well as artist lineups and schedules for previously-announced events like the Grant Park Music Festival. Plus, fireworks will return to Chicago for 4th of July weekend—though we're still waiting for more details on when and where that will take place.
Because the city has fully reopened, the Open Culture events won't have capacity limits and won't require advanced registration. Ready to mark your calendar for a little dose of culture over the next few months? Take a look through the city's list of festivals, concerts and arts programming below. 
"Chicago Presents" community events 
In partnership with Chicago Presents and the Walder Foundation, DCASE has awarded a series of grants ranging from $5,000 to $30,000 to help community organizations stage summer events and programming in neighborhoods throughout the city. Each event will look different, but you can expect musical performances from local musicians on the Chicago Band Roster, a database of 200 Chicago-based artists of all genres.
Bronzeville Art District Tour presented by Bronzeville Art District, July–August in Bronzeville

Jolgorio de Salsa y Más presented by the Puerto Rican Cultural Center, July–August in Humboldt Park

Bronzeville Sounds & Color presented by Urban Juncture, July 7–August 30 in Bronzeville

Barrio Arts Fest presented by National Museum of Puerto Rican Arts & Culture, July 9–10 in Humboldt Park

Lot Jams presented by North River Commission, July 15, August 5, 27, in Albany Park and Irving Park

What Symbol Represents a Spirit presented by Sky People Entertainment, July 17 in Humboldt Park 

Bands on Broadway and Beyond presented by Edgewater Chamber of Commerce, July 23–25 in Edgewater

Bronzeville Jazz/Music Experience — Falling in Love with Bronzeville presented by 51st Street Business Association, July 24 and August 21 in Bronzeville

The Power of the Word presented by Elastic Arts Foundation, various dates August–September 2 in Avondale, North Lawndale, Bronzeville, Washington Park and New City

Back Alley Jazz Festival presented by South Shore Works in partnership with Hyde Park Jazz Festival, August 2 in South Shore

Firefest 2021 presented by The Firehouse Community Arts Center, August 14 in North Lawndale

Pilsen Fest presented by Pilsen Community Market, August 14, 15 in Pilsen
Latinx and world music celebrations
In keeping with the city's Year of Chicago Music theme, DCASE will stage two Latinx and world music performances this summer: The first,¡Súbelo!, will run in Pilsen from 1–4pm on September 9 and champion Latinx music and culture; the second, Global Peace Picnic, will take place at the Humboldt Park Boat House from 2–6pm on September 25 and feature family-friendly activities and world music in honor of the United Nations' International Day of Peace. 
House City
Chicago is getting a new, nine-part series of free events this summer that pay tribute to how house music—one of the pioneering genres of dance music—was created primarily in Chicago's South Side clubs during the 1980s. DJs and other live performers will pop up for events in Austin (July 8), North Lawndale (July 16), South Shore (July 23, September 12), Englewood (July 31), Humboldt Park (August 14), Southeast Side (August 28) and Lakeview (August 29).
Taste of Chicago To-Go 
Like last year, Taste of Chicago is returning with a to-go format in 2021, bringing free food, music and dance to neighborhoods stretching across the city from July 7–11. More than 40 restaurants will take part in the festivities, and 25 local nonprofits will offer community meals. Keep an eye out for pop-events at the Pullman City Market on July 7, Austin Town Hall City Market on July 8, The Hatchery on July 10, Eli's Cheesecake Company on July 10 and in West Englewood on July 10. You can also catch a special "Taste-ing" event at Goose Island Brewery's Tap Room on July 9, a Puerto Rican cuisine-centric reading with author Marisel Vera at ¡WEPA! Mercado del Pueblo on July 9, a picnic led by women restauranteurs at Millennium Park on July 11, and tons of pop-up music performances. 
Chicago SummerDance in the Parks
The previously-announced return of SummerDance in the Parks—which offers introductory dance lessons from professional instructors, as well as live music and dancing—now has a schedule and lineup. Family and creative activities will take place from 4:30–5:30pm, while lessons, live music and dancing will take place from 5:30–7:30pm except when noted. 
Schedule, parks, and themes are as follows: August 18 at Willye B. White Park (Reggae), August 25 at Ogden Park (Steppin'), September 1 at Palmer Park (Line Dancing), September 8 at Davis Square Park (Cumbia), September 12 from 1–6pm at Rainbow Beach Park (House)—presented as part of the House City series—and September 15 at Portage Park (Salsa).
Chicago City Markets 
Chicago City Markets have returned to streets and parks this summer, include farmers markets at Daley Plaza (Thursdays through September 30); the historic Maxwell Street Market (operating on a new schedule on 1st and 3rd Sundays at 9am–3pm); plus more City Markets in Austin, Bronzeville, Englewood, Pullman, Roseland and West Humboldt Park.
Chicago In Tune
This new festival celebrates the 2021 Year of Chicago Music with free and ticketed events small and large, from the Lyrical Lemonade Summer Smash in Douglass Park (August 20–22) to Pitchfork Music Festival Chicago in Union Park (September 10–12). Plus, in place of the annual Gospel music, Jazz, House and Blues festivals in Millennium Park, Chicago In Tune will present four evenings at Pritzker Pavilion that honor those Chicago-born genres, which will run 5:30pm–8:30pm:
Gospel music, September 3: Hosted by Jonathan McReynolds and Inspiration 1390's Sonya Blakely and DeAndre Patterson. Featuring 

LaShon Brown; a celebratory music tribute to Rev. Dr. Clay Evans, Pastor Maceo Woods, and ArchBishop Lucius Hall featuring The Carson Sisters, Nicole Harris, and Illiana Torres; and The Tommies Reunion Choir. 

Jazz, September 4: Presented with the Jazz Institute of Chicago, featuring Ari Brown, Marquis Hill, and Lizz Wright.

House, September 11: Featuring "Sanitize Your Soul," a debut Gospel House Choir collaboration between Mark Hubbard and DJ Terry Hunter.

Blues, September 18: A celebration of 

the 50th Anniversary of Alligator Records with Lil' Ed & The Blues Imperials, Nick Moss Band featuring Dennis Gruenling, Cash Box Kings with special guests, Shemekia Copeland, Billy Branch, and Wayne Baker Brooks.
Millennium Park programming
In addition to the four Chicago In Tune concerts mentioned above, Millennium Park will play host to more than 25 pop-up music, theatre and dance performances during June and July as well as two movie screenings in August (of The Wiz and The Dark Night at 6pm on August 24 and 31, respectively). The Millennium Park Summer Music Series (Mondays, August 2 – September 13 at 6–8:30pm, and Thursdays, September 2–16 at 6–8:30pm) will bring 10 concerts to Pritzker Pavilion, ranging from two CIVL (Chicago Independent Venue League) collaborations to a special DCASE commissioned performance from Angel Meléndez and the 911 Mambo Orchestra honoring the golden age of salsa in Chicago. Other special events at Millennium Park include the "Baroque in the Park" concert presented by the Music of the Baroque (September 10 at 6:30–8pm) and "Sonic Pavilion," a series of sound installations commissioned by Experimental Sound Studio that will play from the overhead trellis loudspeaker array at Pritzker Pavilion in August and September. For a full lineup of events, visit the Millennium Park website. 
The previously-announced Grant Park Music Festival (Wednesdays, Fridays, and Saturdays, July 2 – August 21 at 6:30–8pm) will feature 21 classical music concerts at Pritzker Pavilion, with performances from The Grant Park Orchestra and Chorus including the Grieg Piano Concerto and the annual "Independence Day Salute," among many others. The Millennium Park Summer Workouts are also returning to the Great Lawn with Tai Chi, Yoga, Pilates and Zumba classes every weekend. 
Chicago Cultural Center
Open since June 2, the Chicago Cultural Center is showing a series of new exhibitions, including "Jeremiah Hulsebos-Spofford: League of Nations" (through August 29) and "what flies but never lands?" (through September 6), in addition to its virtual and in-person tours. Plus, "CHICAGO: Where Comics Came to Life, 1880–1960″ (opening June 19) and "A Designed Life: Contemporary American Textiles, Wallpapers, and Containers & Packaging, 1951–1954" (through September 19) will show at both the Chicago Cultural Center and Expo 72—presented by the Design Museum of Chicago. You can also check out Buddy, the new local art shop that opened at the Cultural Center earlier this month, from 11am–4pm Wednesday through Sunday.
New public Art
Ways and Means, a new work from artists Nick Cave and Bob Faust, wraps eight Green Line CTAs cars in colorful artwork and fills them with a kaleidoscopic pattern made from Cave's artwork. The cars will remain on display through late June. The Chicago Riverwalk has also debuted a new series of five large-scale banners near Michigan Avenue by the artist Andrea Carlson, titled You are on Potawatomi Land. Meanwhile, Art on theMART continues its spring program of projections—including works by the Adler Planetarium and the Art Institute of Chicago—nightly; the summer program will kick off on July 5 with three new commissions in collaboration with the Year of Chicago Music.