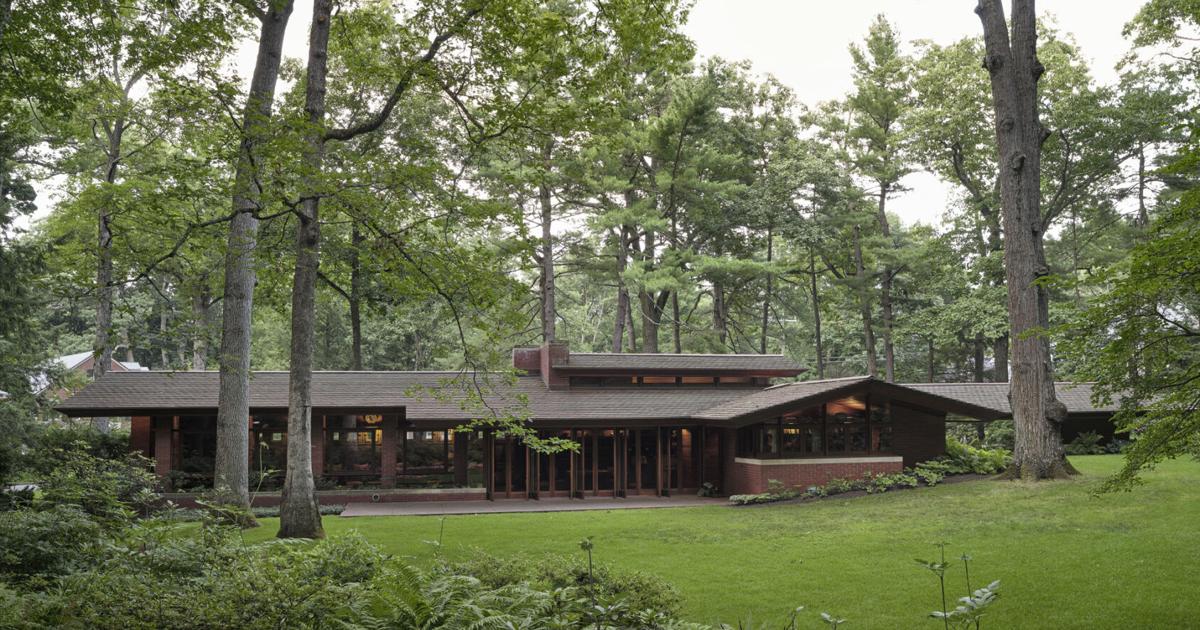 The Wright Stuff: Road to the American Architecture of Frank Lloyd Wright | Such a Fine Sight to See | Pikes Peak Courier
I'm not quite sure exactly when I became a huge fan of the architecture of Frank Lloyd Wright.
During our travels over the years, my husband, Ron, and I have made it a point to seek out and tour some of his masterpieces that are open to the public. Approximately 60 Wright sites are in the public domain throughout the United States. Do yourself a favor and check out the website flwright.org and add some of the destinations to your own travel schedule as we have done in the past, and plan to continue in the future.
Frank Lloyd Wright Home and Studio: Every Wright fan must visit his home and studio located in the Chicago suburb of Oak Park, Ill. Here was Wright's laboratory and design palette for his evolving iconic architectural elements. As a young architect and family man, Wright revised the design of his home multiple times as he expanded the space and refined his ideas. The unique environment of his personal dwelling in the late 1800s and early 1900s reveals liberated spaces along with a rich warmth and elegance. The studio, connected to the house, served as Wright's office, library and work space. The dramatic two-story drafting room provided the creative heart of the building, where Wright and his staff made magic happen. A walking tour of his Oak Park neighborhood is de rigueur, and reveals 25 of Wright's structures built between 1889 and 1913, including the striking Unity Temple completed in 1908.
Zimmerman House: In the late 1990s we lived in Bedford, N.H. Lo and behold, a distinctive Frank Lloyd Wright home located in nearby Manchester, is available for touring. The Zimmerman House, a classic Usonian structure built in 1950, is owned by the Currier Museum of Art. In the middle of the 20th century in ultra-conservative New England, this gesture to modern architecture was likely a puzzlement to the neighbors. Wright designed the house, gardens and interior details — including the dinnerware. The Zimmermans, who lived in the home for 36 years, wrote to Wright in 1952 and exclaimed that they felt their home was, "The most beautiful house in the world." High praise indeed!
Taliesin West: In 2012, we toured Wright's desert home and School of Architecture located in the foothills of the McDowell Mountains of Scottsdale, Ariz. Although the word on the street in the 1930s was that Wright's designing prowess was past its prime by that time, he defied expectations by creating his stunning desert getaway that is also the Arizona location of the Frank Lloyd Wright School of Architecture. Starting in the mid-1930s, Taliesin West became Wright's winter retreat where he tested design innovations related to the dramatic desert setting. Wright went on to create some of his most influential achievements here, including the Guggenheim Museum in New York City.
Tours are available of the impressive grounds, Wright's private home and office, and the educational buildings at Wright's desert laboratory. He spent winters here until his death in 1959, and the school continues to operate.
Arizona Biltmore: Although this Scottsdale resort, built in 1928-29, was not solely created by Wright, he served as a consultant for the structural design and many of his architectural influences are in evidence. The Biltmore it is a must-see for fans to experience his dazzling architectural style on a grand scale. Visiting the almost 100-year-old hotel transports you back to the era of pre-WWII vacations when the golden age of Hollywood and celebrity guests contributed to an aura of glamour and wealth that envelops the Biltmore. The structure, lavish grounds and swimming pools continue to invite a stay for relaxation and renewal.
Bachman Wilson House: Located on the grounds of Crystal Bridges Museum in Bentonville, Arkansas, is a rare, two-story Frank Lloyd Wright Usonian home that was acquired by the museum and reconstructed there. Wright created the term "Usonian," derived from an abbreviation of "United States of North America," to describe the style of American residential architecture that he developed during the Depression to be affordable for middle-class families. The residence, built in New Jersey in 1956, is a distinct mid-century modern design, replete with gleaming mahogany wood, and an emphasis on Wright's trademark elongated architecture. Here is a sterling example of Wright's talent for melding art, architecture and nature.
Dana Thomas House: Along with everything Lincoln, in Springfield, Ill., is an unexpected delight that is part of the urban landscape. The Dana Thomas House has remained virtually intact since it was designed by Frank Lloyd Wright in 1902. It is an expansive example Wright's Prairie Style, and a harbinger of his talent and burgeoning genius. Original Wright art glass and furnishings remain in the 3-story, 35-room home, including art glass windows, skylights, door panels, sconces and light fixtures. Luckily, the residence has been incredibly well-preserved and maintained throughout the years. It's a midwestern marvel!
Fallingwater and Kentuck Knob: Ron and I visited these sites, both located in southern Pennsylvania, in fall 2021. Details are included with my travel column in the Dec. 29, 2021 Cheyenne Edition. Fallingwater is likely one of the most famous private residences in the United States. It is Wright's most widely acclaimed work, and a perfect delight to see. Here within a lush forest rises a set of cantilevered boxes built over a flowing stream and tumbling waterfall. Nearby is Kentuck Knob, a Wright-designed private home that showcases his Usonian architecture. It is built into the crest of a hill, inviting the outside forest into the nature-inspired living areas.
This summer, Ron and I plan to visit Taliesin, Wright's Wisconsin home, studio, and school located in southwest Wisconsin. The 800-acre estate is yet another exemplification of the life, influence and genius of one of America's premier architects.
Libby Kinder is a freelance writer and retired clinical mental health counselor. She and her husband have lived in southwest Colorado Springs since 2003. Contact Libby with comments and travel ideas at [email protected].