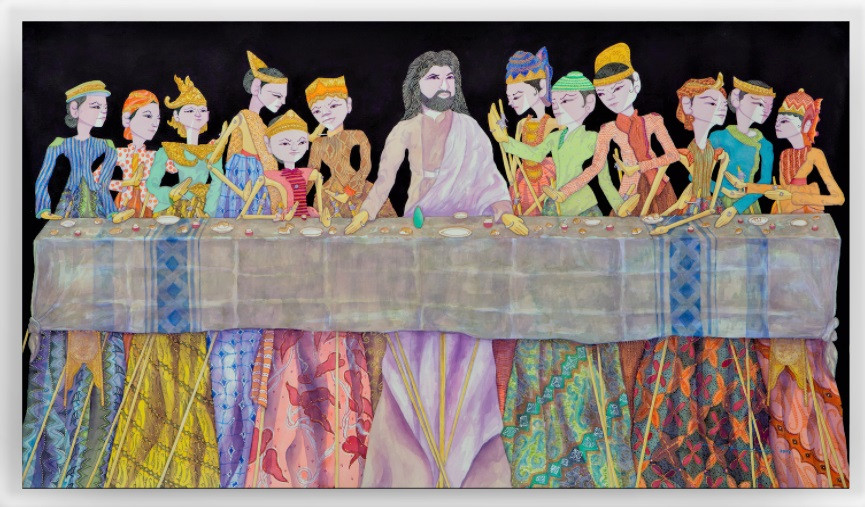 Virtual AGSI exhibit heralds 2021 with homegrown talent – Art & Culture
From a distance, the Last Supper (2020, acrylic on canvas) by Syaiful Rachman could appear to be just as another visual rendition of Leonardo da Vinci's famous mural painting.
Zooming in for a close-up view reveals that it is an optical illusion, a mosaic of small, faceless human figures in various poses that form every figure and object that feature in the painting.
"The artist is impressed by great people, but also believes they would not exist without these anonymous little people," said Hardiman of Andi's Gallery, who curated the exhibition, explaining the relationship between the concept and the subject matter behind the work on Dec. 28, 2020, at the first talk held by the Indonesian Association of Art Galleries (AGSI) on Instagram Live
Hardiman added that recontextualizing the famous painting gave value to the art of appropriation.
"The artists give new meaning and interpretation to preexisting works or to art history, challenging the notions of authenticity and reproducibility while exercising creativity in the process," he explained.

Motifs at play: Arwin Hidayat combines primitive, contemporary and batik motifs in his quadtych, 'Tolong Bu Dokter' (Help me, Madam Doctor, 2018-2019). (Courtesy of AGSI/-)
The Instagram Live talks are part of the AGSI's "Ray of Hope" virtual exhibition, which runs at agsindonesia.org/ray-of-hope-virtual from Dec. 12, 2020 to Jan. 20, 2021 and features 36 works of art from the collections of eight member galleries.
Other works of appropriation art in the exhibit are Sasya Tranggono's The Last Supper #2 (2017, watercolor on paper) and Raja Damai (Lord of Peace), a bronze sculpture by Adi Gunawan.
Sasya reimagined the final meal shared by Jesus and his disciples in Jerusalem in a painting that features wayang golek (wooden wayang puppets) as the disciples, adorned in batik with different motifs.
Meanwhile Adi, known for his whimsical approach to breaking the common perception of beauty, appropriated an illustration he once saw of the Ascension of Jesus by reinterpreting it as a sculpture, only with Jesus sporting a fuller figure and kinky hair.
"The artist is trying to deconstruct the image created by mainstream cultures and has been accepted as the truth," Hardiman said.
Continuing, he said that appropriation art, or the art of appropriation, was not new to Indonesia, pointing to Raden Saleh's A Flood on Java (1862) as an early example of Indonesian appropriation art.
The lithograph is essentially a reproduction of The Raft of the Medusa (1818) by French painter and lithographer Théodore Géricault, which depicts the shipwrecked sailors of a French naval frigate adrift on a wooden raft. Raden Saleh used the oil painting as the basis for his lithograph of people stranded atop woven roofs in flowing floodwaters, which captures their desperation after a massive flood in Java, a common occurrence during his day.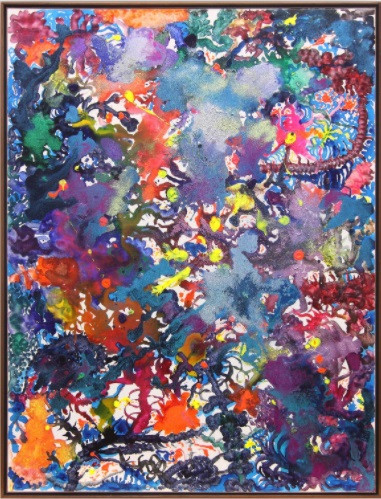 'Rare' gem: Artist Entang Wiharso's 'Floating Garden' (acrylic and glitter on linen) is one of 36 works from eight members of the Indonesian Association of Art Galleries (AGSI) that feature in the "Ray of Hope" virtual exhibition, which runs through Jan. 20, 2021. (Courtesy of AGSI/-)
Realist painter Chusin Setiadikara has created a more optimistic closing in his appropriation art, titled Raden Saleh, Theodore Gericault, and the European Revolution in the 19th Century (2014). The artwork also depicts a flood, but his rendition shows people working together and helping each other in a nod to the inherently Indonesian spirit of gotong royong (mutual assistance).
The discussion over the ethics of appropriation in art that ensued between the curator and viewers was a boon of holding the exhibition online.
Culture director general Hilmar Farid of the Education and Culture Ministry said in his opening speech that the AGSI had succeeded in setting up a digital exhibition space in response to the mobility restrictions amid the coronavirus pandemic.
He said that future developments in the digital era would change the relationship between art galleries and art collectors, as well as their collections, in that owning physical artwork would be secondary to offering public access and promoting art appreciation.
"It would shift the function of art galleries as [more than] just a place to store and to display art collections and toward the management of artistic content. Through the exhibition, the association has taken a concrete step to anticipate these changes and to start a conversation on the future of art galleries and their collections," Hilmar added.
Newly elected AGSI chairwoman Maya Sujatmiko said "Ray of Hope" was the association's attempt at adapting to the current situation to keep the Indonesian art ecosystem alive.
"We realize our responsibility in [being a bridge] between art and the general public, and providing public access to art education and appreciation, not just its commercial aspect," she said.
The eight AGSI galleries that have contributed to the exhibit are the five Jakarta-based galleries Andi's Gallery, Art:1 New Museum & Art Space, Artsphere, Can's Gallery and Edwin's Gallery. The three other galleries are based in Java: the Equator Art Project in Yogyakarta, Lawangwangi Creative Space in Bandung, West Java, and Puri Art Gallery in Malang, East Java.
The galleries contributed paintings mostly by renowned and budding Indonesian artists who work in different mediums.
Art:1 provided Roses, Orange, and Brass Teapot (1991), a painting by the late impressionist Chris Suharso, and Hikmah Di Balik Bencana (Wisdom behind the disaster, 2020, mixed media: patchwork and embroidery) by young artist Yawara Oky Rahmawati.
The Equator Art Project contributed the work of young artists, including I Putu Adi Suanjaya.
The Balinese artist, who goes by "Kencut", is known for painting inanimate objects to resemble stuffed toys to reflect on human values and stories, such as in Meditation to Create (2020).
"I am currently looking further into the concept of balance, hence the painting," Kencut said in the exhibit's second Instagram Live talk on Jan. 5, hosted by curator Citra Pratiwi of the Langgeng Art Foundation, who also curated "Ray of Hope".
During the same talk, Art:1 curator Monica Gunawan introduced Maverick (2019), a work by Japanese mixed media artist Shingo Okazaki that was included in the exhibition.
"His style shows the influence of his background as a graphic designer, using pencil, pen and paper as his main [mediums]," said Monica, adding that Okazaki held an exhibition in Jakarta in August 2019.
"What's unique is his concept of time that he expresses through his work. There are different fragments in one canvas to show the many events that can happen in [a single] time frame, as he believes that although people can't see time, they experience time collectively," she said.
Another work by a foreign artist in the exhibition is the 3-meter-long painting Spring Mountain (2005, acrylic on canvas) by Hou Qing. The Chinese painter is famous for mixing Chinese ink painting techniques and Western painting techniques.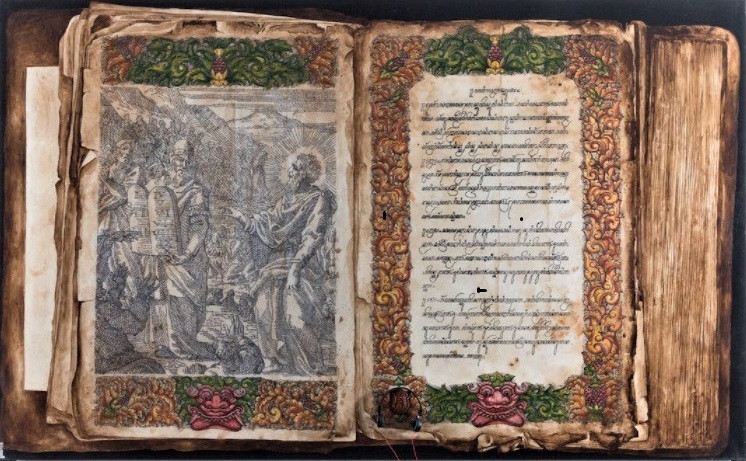 Rewriting history: Eddy Susanto's 'The Book Hours of Nagarakertagama' juxtaposes Indonesian history with world history with the addition of Javanese passages written in Hanacaraka script. (Courtesy of AGSI/-)
Venturing further into the virtual exhibit, two paintings by Eddy Susanto, Java Bible of Durer #9, Samuel II of Durer (2012) and The Book Hours of Nagarakertagama (2014), catch the eye.
These unique paintings juxtapose Indonesian and world history, interpolating Indonesia's cultural identity into Western historical elements with the addition of passages written in Java's Hanacaraka script.
Citra also introduced Floating Garden (2016) by Entang Wiharso from Can's Gallery as a rare work.
"The painting uses acrylic and glitter on linen. It is rare because the artist hardly ever uses such media in his work," said Citra. Rather, the internationally renowned artist is known for his large paintings, wall sculptures and installations.
"We are taking this opportunity of going digital to introduce the work of our homegrown artists to the public. 'The Ray of Hope' exhibition is held to welcome 2021 as a beacon of hope to all art-lovers for the better future of Indonesia's art ecosystem." (ste)
Your premium period will expire in 0 day(s)
close x
Subscribe to get unlimited access
Get 50% off now