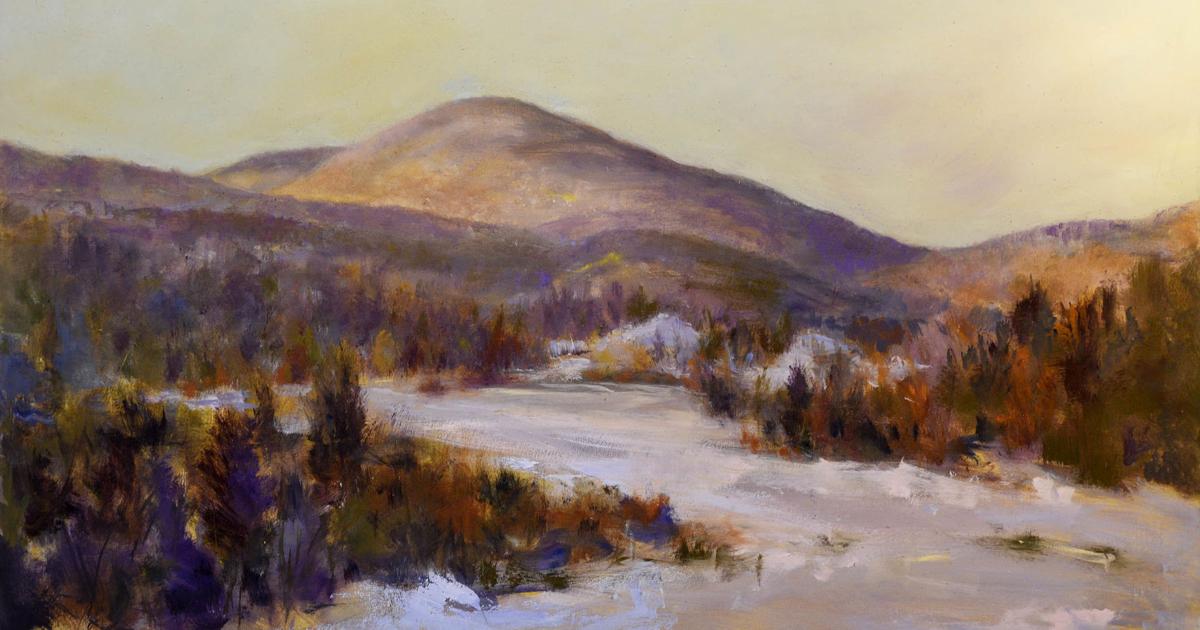 Visual Art Review: Carol Naquin at CVMC: 'Roaming the Rivers, Roads & Hills' | Tac
A tiny cerulean rivulet wends its way by way of summertime sedges. The Black River meanders all around a broad bend, scattered clouds overhead reflected in its quietly flowing floor. Snowbanks edge West Hill Highway as it crests by a acquainted crimson clapboarded barn.
There is a feeling of traveling together with Carole Naquin in her solo exhibition that just lately opened at the Gallery at Central Vermont Health-related Center in Berlin. In "Roaming the Rivers, Roads & Hills," Naquin can take viewers outside in the generally Vermont landscape in her pastels and oil paintings. The artworks roam as a result of the area and seasons and underneath glorious expanses of sky.
"The Vermont landscape is so beautiful," claimed Naquin, who lives and has her studio in Montpelier. "I really like plein air portray where the mild and clouds are transferring all over, the shadows get longer and are stuffed with secret and the air is filled with smells and appears. All this can get injected into a painting."
Naquin, who acquired her bachelor of high-quality arts from Syracuse University majoring in illustration, invested her early creative job in Boston. There, as a graphic artist she labored with marketing agencies, a publishing business, a printmaker and professional intaglio printer. She set up a cooperative etching workshop and gallery on Newbury Avenue and had a studio at Boston Middle for the Arts.
With her shift to Vermont, Naquin worked as an artwork director at National Lifetime for a 10 years then moved into freelance graphic style and design. Recently, she has been ready to refocus on her individual artistic assignments.
"Being retired has provided me the time to build these paintings and to do what I really like doing immediately after decades of operating and increasing a spouse and children," she claimed.
Naquin frequently performs en plein air, environment up her easel streamside or at other places that go her.
"I get the job done swiftly in soft pastels and oils to seize the vitality and the gentle of issues that are familiar to me: a sky, a river or industry, a spot or confront," Naquin explains in her artist's statement. "When I paint I experience like I am likely into a trance. It is complicated for me to communicate until eventually I have solved the complexities introduced when carrying out a portray and I have again discovered a way to relive the times of my lifestyle."
Electricity and mild pervade in her selections — in glowing h2o in "Upper Saranac Lake," pale yellows and blues of settled snow in "Snow Hill Highway, East Montpelier VT," as working day breaks in "Sunrise on West Hill, Craftsbury VT."
Naquin captures motion and temper in her skies. Correct to Vermont, her skies occur in all flavors — amazing fiery oranges and golds in "Sunset à la Bolt," piles of clouds going in at the conclusion of the working day in "Evening Star," breezy gentle in "Bend in the Mighty Black." In her oil on Masonite "Clouds off the Substantial Street," a patch of industry and forest glows with daylight passing through the turbulent sky.
A member of the Vermont Pastel Culture, Naquin turned to the medium in the 1990s.
"I took an night pastel course with Jeneane Lunn," Naquin mentioned. "We would established up a still lifetime and Jeneane would speak about all areas of artwork and critique our do the job. She taught me so substantially about performing in pastels … I love operating with pastels for their immediacy and luscious hues."
Naquin has a short while ago returned to oil portray just after a 50-year hiatus.
"So diverse from pastels — a slippery, fluid medium that I'm savoring. I'm working with many tubes of oil paint that I inherited from my fantastic aunt, a portrait painter in the 1960s," she reported, noting that she has been learning through Zoom with artist Aline Ordman by way of the COVID pandemic.
The exhibition is nearly all landscapes, with three notable exceptions — two abstracts and a self-portrait. The abstracts, she stated, were being aspect of a problem with the Vermont Pastel Society Central Vermont hub final 12 months.
"They were so freeing to do. I set on some gorgeous songs and performed with composition and shade," Naquin reported.
"Self-portrait with Mask," carried out in 2021, is a pretty addition to the present, with the artist in white facemask and smudged smock, arm prolonged, in the midst of her creative work.